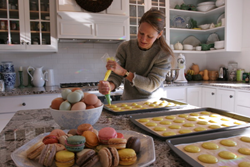 Bouffages has created a platform that enables local cooks to become entrepreneurs in their own right. It's time for the local cook to shine.
COLUMBIA, S.C. (PRWEB) December 09, 2017
Founded in 2017, Bouffages.com coined "AIRBNB FOR CATERING", is making a big splash in the catering industry. Bouffages is the number one platform for peer to peer catering. Bouffages is also helping people across the US bypass the outrageous overhead costs and ridiculous ad-on fees like (cake cutting) that result in overly expensive catering services. Bouffages is proudly connecting consumers to local Culinary/Catering Pros who can save them money.
The Bouffages' community consist of Culinarians and Clientele. Utilizing the platform, Culinarians list and sell their culinary specialties and catering services to people within their neighborhood, county, town or city. Event planners or families looking for reasonable, but quality event or domestic catering services search the marketplace database to connect with local Culinary/Catering Pros. in their area.
Bouffages' local vetted Culinary/Catering Pros offer a variety of catering services to include social, event and domestic catering services. Their services range from catering small tupperware parties to catering family reunions. Many of the Culinarians also offer domestic catering services. They prepare meals for couples as well as families with three or more members. Bouffages will inevitably become a rival in the meal kit delivery space. Unlike competitors who ship uncooked meal kits via snail mail, Bouffages will ultimately have the upper hand because Culinarians will be able to provide the product "Made to Order".
How it works
Consumers can search the listing's database for catering services anytime, but must create a Bouffages' account to make a purchase. They can also contact Culinarians using Bouffages' private messaging system to discuss the details of a certain listing before committing to any purchase.
Bouffages' mission is to give consumers a cost effective alternative to traditional catering establishments. Bouffages is a great benefit to both Culinarians and Clientele. Local cooks get to put their Culinary expertise to good use while earning substantial income, and consumers get to take advantage of quality catering services for less money. In addition, consumers get to delight their tastes buds with the culinary gifts of various locals, who are truly the best cooks anyway.
Share Bouffages' exciting and funny YouTube video campaign, "Undead Mummy Chefs Protest"
Connect:
Visit Bouffages at: bouffages.com
Like Bouffages on: Facebook
Follow Bouffages on: Twitter
Follow Bouffages on: Instagram
###