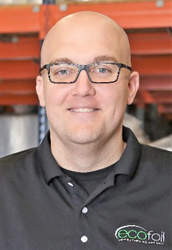 His enthusiasm for the product and how we differentiate ourselves from the competition is contagious!
URBANA, Iowa (PRWEB) December 08, 2017
Austin Dopp has been appointed to the role of Business Unit Fanatic™ (BUF™) for the EcoFoil business unit at Clickstop, Inc. EcoFoil provides a wide range of radiant barrier and bubble insulation products that reduce energy consumption in residential, commercial and agricultural buildings.
In his role as BUF™, Dopp is responsible for driving EcoFoil's growth and effectively using Clickstop's shared services model within his business unit. This shared services model was implemented in July 2017 to create an entrepreneurial environment where engagement is expected, required and drives growth and sustainability.
"I have a background in psychology and human services, and I love all types of interaction with people," said Dopp, who joined Clickstop's warehouse packaging team in 2015. The following year he served as a sales and service specialist in the Clickstop Accelerator. "I'm also a motivated person who works hard to get results. As the EcoFoil BUF™, customers will notice the importance I place on making sure things are handled smoothly and in a detail-oriented way."
"Austin has made a large impact with his dedication to our customers and his ability to get the job done," said Tammy Karr, president of the Clickstop Accelerator. "As Austin learned our brands, he really became a 'fanatic' of EcoFoil. His enthusiasm for the product and how we differentiate ourselves from the competition is contagious! I can't wait to see the impact Austin will make in his new role."
Dopp grew up in Winthrop, Iowa, and graduated from Upper Iowa University with a bachelor's degree in psychology and human services. Prior to joining Clickstop he worked at Tanager Place in Cedar Rapids as an on-campus cottage supervisor. He also held sales positions at several Cedar Rapids companies.
About Clickstop, Inc.
Clickstop, Inc. grows business units of different sizes, serving multiple industries and markets by employing Business Unit Fanatics™ and supporting these individuals through shared services. Clickstop drives business unit growth through their alignment with their core values, by employing an engaged workforce and by sustaining an entrepreneurial environment designed to quickly and effectively navigate change. The company's Business Unit Fanatics™ grow businesses within Clickstop by effectively utilizing shared services provided within the organization. The company's reputation and commitment to great workplace culture and engagement has landed it multiple workplace-focused awards, including multiple first-place finishes as the Coolest Place to Work in the region.
###