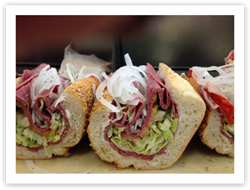 According to Allan Lewin, CEO of Lee's Hoagie House " it would not be a Lee's hoagie without the "secret sauce" and that is applied twice, once on the lettuce and again on top of the onions."
PHILADELPHIA (PRWEB) December 11, 2017
Each day, at least 50% of Americans eat some type of sandwich.
It is commonly believed that the sandwich was created when a gambler refused to leave the table for a meal and put meat between two pieces of toasted bread so he could continue playing. While this is a cute story, the true definition of a sandwich is "two pieces of bread with a filling between them". Sounds simple enough and lots of places make sandwiches, but there are only a few places where the sandwiches stand out above all the rest.
So, what makes these few sandwiches special? Is it a secret sauce or a certain way the sandwiches are prepared and constructed? Is it a certain type of meat or meat and condiment combination? I think it is all of these things together that make certain sandwiches stand out!
We at Lee's Hoagie House, a Philadelphia tradition for over 60 years, know what it takes to make a sandwich stand out! First, we start with a roll, baked fresh daily, crusty on the outside, but soft in the center. All of the sandwich ingredients are cut and prepared fresh each morning. Then the sandwiches are built with meat and cheese on the bottom, then the lettuce and tomato, more meat on top of the veggies followed by the hot pepper relish and onions. Of course, it would not be a Lee's hoagie without the "secret sauce" and that is applied twice, once on the lettuce and again on top of the onions. Of course, if you want extra "secret sauce", then it also goes on the bread….yum! This method of sandwich building insures that every single bite tastes great and none of the ingredients slide out leaving you with an empty roll, a pile of meat, and some wet veggies. So, if you have not already tried a Lee's hoagie, please do so and if you are already a loyal Lee's customer, thank you.
Allan Lewin
CEO Lee's Hoagie House