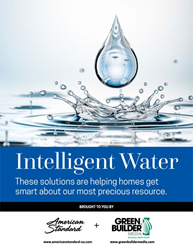 LAKE CITY, Colo. (PRWEB) December 08, 2017
Green Builder Media and American Standard are proud to release Intelligent Water, an Ebook that outlines several strategies building professionals can use to make better use of our most precious resource and distinguish their projects as water wise.
While this ebook doesn't cover the full gamut of water-saving strategies, it targets the solutions most widely available to most architects, builders and homeowners today. As the cost of high-quality potable water rises, we'll no doubt see water agencies and municipalities endorse solutions that incorporate reuse and onsite treatment, even as efficiency standards continue to rise. By promoting a variety
of water-saving strategies today, you will be at the leading edge of the wave.
To download your copy of the Ebook, please visit https://www.greenbuildermedia.com/download-intelligent-water-american-standard
About Green Builder Media
Green Builder® Media, LLC is the nation's leading media company focused on green building and sustainable living, affecting positive change by providing inspirational information to over 200,000 progressive building professionals and 38 million consumers who are interested in sustainable living. With a comprehensive suite of content marketing, digital, social, and print media options, high-profile demonstration projects, market research, and live events, Green Builder Media offers a blend of visionary and practical information covering a broad spectrum of sustainable living topics, including Internet of Things, smart home technologies, energy efficiency, water conservation, indoor air quality, resilient housing, renewables and clean transportation. For more information, visit http://www.greenbuildermedia.com.
About American Standard
At American Standard it all begins with our unmatched legacy of quality and innovation that has lasted for more than 140 years. Leading the way in developing innovative bath and kitchen products including stylish faucets, high performance toilets, comfortable bathing and wellness products that have set and re-set the standards for living healthy, responsibly, and beautifully.
We are dedicated to raising the standard in daily living by providing product solutions that are healthier, safer, more beautiful and more sustainable at home, at work and around the world. For more information visit https://www.americanstandard-us.com/