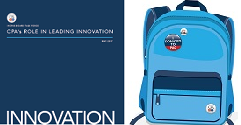 INDIANAPOLIS (PRWEB) December 08, 2017
The Indiana Society of Association Executives (ISAE) presented the Indiana CPA Society with two awards at its 2018 STAR Awards banquet celebrating associations in Indiana on December 7.
INNOVATIVE COMMUNICATIONS PROGRAM AWARD
For the Indiana CPA Society and CPA Center of Excellence® collaboration on innovation for CPAs.
In a recent study conducted for CPA.com, only 10 percent of CPA firms view themselves as innovative but 82 percent recognize they need to better understand innovation. As a result, the Indiana CPA Society Board Task Force and CPA Center of Excellence® conducted extensive research into innovation, conducted surveys and had in-depth discussions with leaders from companies across Indiana who shared examples of innovation.
Innovation White Paper
The four key areas of innovation identified for CPAs were: Changing Role of the CPA, Talent & The Changing Workforce, Globalization & The Marketplace, and Disruptive Technology & Innovation.
The Innovation Task Force set ambitious goals starting in January 2017 and already has exceeded them by: Implementing an Innovation Advisory Council of INCPAS members; publishing the Innovation White Paper; publishing an Innovation issue of our quarterly CPA IN Perspective member magazine; publishing original blogs on innovation; launching multimedia innovation microsites at cpacoe.com/innovation; and presenting our first-ever Innovation Award at the spring CPA Celebration.
INNOVATIVE MARKETING CAMPAIGN AWARD
For the Indiana CPA Society Political Action Committee "Back PAC" campaign.
The Indiana CPA Society's Back PAC campaign is helping raise awareness for our political action committee across all communication channels. Our graphics are recognizable, visually Back PAC pleasing and quickly convey to members what the PAC does. Success to date includes a 10% decrease in expenses, as well as a 90% increase in email click rates.
The contribution letters, website, homepage banners, email banners, social posts and magazine ads all were updated with the Back PAC.
The new PAC campaign launched in spring with the Back PAC ("we've got your back") theme. This was our way to inform or remind members they should contribute to the PAC so we can better carry the legislative load that will protect the interests of their profession, clients and the public interest.
###
About the Indiana CPA Society
Nearly 8,100 CPAs in public practice, business and industry, government and education are members of the Indiana CPA Society. INCPAS is the most trusted business resource and advocate in Indiana. Its members are required to abide by the CPA profession's code of conduct. INCPAS members also receive access to quality educational programs and peer networking for knowledge sharing. Society members are trusted advisors to Indiana's business community. INCPAS celebrated its 100th anniversary in 2015. For more information, visit incpas.org.