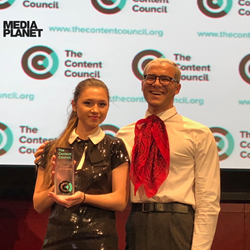 Mediaplanet, who was nominated among publishers such as the New York Times and the Washington Post, was awarded the highest honor, Gold, for their "Empowering Our Educators" campaign
NEW YORK (PRWEB) December 08, 2017
The Content Council's esteemed 2017 Pearl Awards were held yesterday at the prestigious media house and New York City landmark Hearst Towers, where over 140 leading content marketing agencies gathered in hopes of taking home top-awarded recognition for their content marketing efforts. Mediaplanet, who was nominated among publishers such as the New York Times and the Washington Post, was awarded the highest honor, Gold, for their "Empowering Our Educators" campaign in the Education industry.
"We are thrilled to be recognized at such a prestigious event!" said Luciana Olson, Mediaplanet's U.S. Managing Director. Each one of our campaigns are carefully crafted with the commitment to the highest quality of content and relevant storytelling. This is a huge win for our production and publishing teams!"
Mediaplanet's "Empowering Our Educators" campaign featured stories and op-eds by industry leaders and renowned advocates such as Lin-Manuel Miranda (Hamilton creator and the campaign's cover story), National PTA, The American Association of Colleges for Teacher Education, National Council on Teacher Quality, American Federation of Teachers and many others.
The campaign covered important topics that ranged from educator commitments to a better future for our students, how to support our educators for healthy, forward-thinking classrooms, how parents can better engage in their children's education, as well as the importance of financial literacy and music education for our kids. To view the full print campaign, click here and for exclusive related online stories, visit Mediaplanet's Education content hub.
About Mediaplanet:
Mediaplanet specializes in the creation of content marketing campaigns covering a variety of industries. We tell meaningful stories that educate our audience and position our clients as solution providers. Our unique ability to pair the right leaders with the right readers, through the right platforms, has made Mediaplanet a global content marketing powerhouse. Our award-winning stories have won the hearts of countless readers while serving as a valuable platform for brands and their missions. Just call us storytellers with a purpose. Please visit http://www.mediaplanet.com for more on who we are and what we do.
About the Pearl Awards:
The Content Council has been celebrating excellence in content marketing since 2004, making The Pearl Awards the longest running and most prestigious content marketing awards program in the United States. Content marketers small and large — B2B and B2C, representing clients in a wide range of industries, and producing programs across multiple channels — have had the honor of winning a Pearl Award over the last 13 years. Learn more, https://thecontentcouncil.org/Pearl-Awards