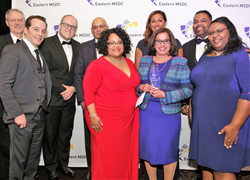 We are the company that helps you become the next Airbnb in your industry, rather than being disrupted by it.
WILMINGTON, Del. (PRWEB) December 11, 2017
Frontier Technologies, Inc. received the EMSDC Class III Supplier of the Year Award on Friday night, December 1st, at the 2017 annual EMSDC Choice Awards Gala.
Frontier Technologies has been involved with the EMSDC for many years. The EMSDC helps connect diverse suppliers with corporate buyers to foster economic development and make use of the value inherent in a diverse supply chain. They have recognized diverse, minority owned companies like Frontier Technologies, at these Awards Galas for their contributions to this cause and in celebration of their achievements.
11 years ago, Frontier was on the same stage, winning the EMSDC Supplier of the Year Award in 2006. Back then, it was the Class I Award. Friday night, they were humbled to have achieved Class III, representing an exponential growth in revenue and a significant change in the way they do business.
Frontier Technologies is a forward thinking organization that is committed to progress at the speed of change year over year. This is necessary to remain relevant and always add value for their clients in the fast-paced world of technology. They have developed a unique model that has allowed them to be on the forefront of innovation for three decades.
"Some of you probably still remember us as a run of the mill technology integrator from our Class I days – good times!" said Jayshree Moorthy, CEO, during her acceptance speech. "But what many of you probably don't know, is our key to achieving exponential growth year over year and nimbly innovating in an industry that's famous for making even the largest corporations irrelevant."
Moorthy says this key to their success is what has allowed them to earn the Class III Supplier of the Year Award this year.
"We're extremely proud of what the new Frontier has become: our tagline is still 'Integration Done Right', but the meaning of 'right' has totally changed," she said.
According to Moorthy, 'IT Integration Done Right' once meant to save money, make things more efficient, and increase profitability – all of which they still do, she assured us. But everyone else claims to do the same thing, and at that point technology devolves into a commodity.
What differentiates Frontier Technologies, is that they design solutions that help their clients innovate. Yes, they can help increase profitability, but what really sets them apart is that they turn their clients into a disruptive force in their respective industries.
"Our technology is just a vehicle to drive you to innovation. We forge the path," says Moorthy.
Think about companies like Airbnb or Uber – these are new startup companies that totally disrupt and change their industries. And the companies that fail to innovate eventually become obsolete.
"Let me put it this way," says Moorthy. "Since we won the Class I Supplier of the Year award, 52% of the Fortune 500 no longer exist. Three fourths of the current Fortune 500 are vulnerable to disruption within three years.
"Our new mission, as Class III Supplier of the Year is this: we are the company that helps you become the next Airbnb in your industry, rather than being disrupted by it.
"And let me tell you - we would not be here tonight if it weren't for the EMSDC. The diversity of our innovative ideas would have no reach without the commitment to diversity the EMSDC has achieved."
About Frontier Technologies, Inc.
Frontier Technologies, Inc., headquarters in Wilmington, DE, along with operations and clients across the US, is a full-service Information Technology (IT) Infrastructure Systems & Staff Augmentation company—enabling enterprises to meet or exceed their IT goals on-time, on-budget, and on-spec. A minority-woman owned business as classified by the government for supplier-diversity initiatives. Leveraging almost 30 years in business, forming strategic partnerships with IT giants like IBM, Dell-EMC, VMware, Microsoft, HP and small businesses alike to provide clients the best-of-breed solutions with ease. Frontier is brand and technology agnostic. Frontier provides the consultative services for evaluating and selecting the best solutions providing clients peace of mind and a sustainable ROI.
The mission of Eastern Minority Supplier Development Council is to stimulate and support economic development with minority-owned businesses (Asian, Black, Hispanic, and Native American). While our outreach addresses both national and international entities, our primary focus area includes Pennsylvania, Southern New Jersey, and Delaware. The council fosters the development of minority business enterprises to better align them with corporations in an effort to initiate growth and opportunity through Supplier Diversity channels.