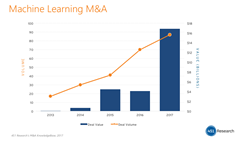 Not only is year-to-date spending more than four times the amount spent in 2016, it surpasses total spending for all previous years combined.
BOSTON (PRWEB) December 11, 2017
Acquirers have spent a record-breaking $17bn so far this year to acquire machine learning companies, as major technology players staked out their positions in a technology that is expected to profoundly disrupt the marketplace in coming years. Buyers announced 87 transactions totaling announced or estimated spending of $16.8bn though November, according to 451 Research's M&A KnowledgeBase. Not only is year-to-date spending more than four times the amount spent in 2016, it surpasses total spending for all previous years combined. Prior to 2017, tech acquirers spent $9.4bn to acquire 177 machine-learning or artificial-intelligence companies.
The data from 451 Research includes acquisitions of companies that offer machine-learning or artificial-intelligence technology or products.
"In any major technology disruption, large vendors augment their own research and development with acquisitions. AI and machine learning – like cloud and mobility before it – have seen that during 2017. However, machine learning is being felt more widely than those two prior trends; M&A activity has spanned the entire technology stack from chips to SaaS as vendors move to make sure they're at the vanguard of a technology that will reshape our personal lives, work lives, education and leisure.", says Nick Patience, Co-Founder and Research VP, Software at 451 Research.
So far this year, Apple, Cisco, Facebook, Google, HPE, Intel and Microsoft have been among the tech vendors placing bets with machine-learning acquisitions. By far the biggest transaction was Intel's $15.3bn purchase of Israel-based MobileEye in March to add semiconductors for assisted and autonomous vehicle applications to its portfolio. That deal, at 41 times trailing 12-month revenue, also holds the record for the highest multiple ever paid for a company with more than $100m in trailing revenue, according to the M&A KnowledgeBase.
Software companies account for about two-thirds of the targets so far this year, with business intelligence and customer relationship management (CRM) making up about a third of all targets. In the business intelligence segment, for example, TIBCO acquired two machine-learning companies that enable predictive analytics. In the security category, which accounted for 17% of targets so far this year, we saw deals such as Cisco's acquisition of Observable Networks, which uses proprietary machine-learning technology to enhance its security monitoring capabilities.
Google/Alphabet holds the record for the number of machine-learning deals over time with 11 transactions announced so far. IBM, which is placing a big bet on its Watson AI unit, is runner-up with nine acquisitions in total.
About 451 Research
451 Research is a preeminent information technology research and advisory company. With a core focus on technology innovation and market disruption, we provide essential insight for leaders of the digital economy. More than 100 analysts and consultants deliver that insight via syndicated research, advisory services and live events to more than 1,000 client organizations in North America, Europe and around the world. Founded in 2000 and headquartered in New York, 451 Research is a division of The 451 Group. Learn more.
451 Research is proud to be the Premier Research Sponsor for AI World, the industry's largest independent AI business event, taking place this week, December 11-13, in Boston, MA. 451 Research analysts Nick Patience and Raúl Castañón Martínez will be speaking at the following sessions:
Panel: Next Generation AI Technologies
Executive Roundtable: Driving Innovation in the Enterprise
General Session Executive Panel — Future of AI