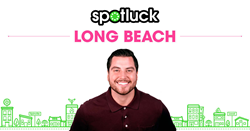 With Spotluck, we're able to drive traffic to local businesses year-round using smart discounts that reward people for dining during off-peak times
(PRWEB) December 11, 2017
Dining out in Long Beach just became more fun and less expensive. After expanding its services throughout New York City and surrounding boroughs earlier this year, Spotluck launched in Long Island on December 8th. Spotluck offers savings from 15%-35% off your bill at nearly 1,500 restaurants on the East Coast.
Andrew Massetti, a Long Beach resident and Spotluck's NY-region community manager, spearheaded the expansion. Spotluck only works with locally-owned restaurants and Long Beach's thriving local dining scene made the decision to enter the market an easy one.
"In Long Beach, the environment is totally different in the summer vs. the winter" says Massetti who also launched Spotluck in New York and Brooklyn. "With Spotluck, we're able to drive traffic to local businesses year-round using smart discounts that reward people for dining during off-peak times."
Participating Long Beach locations include Jetty Bar & Grill, Sherry Blossom, Whale's Tale, Lido Kosher Deli, Fisherman's Catch Restaurant, The Point Lookout Clam Bar, Sangria Tapas & Wine, Lilly's of Long Beach, Speakeasy, Swingbellys BBQ, Long Beach Sandwich Company, Beginnings, La Bottega, and Brixx & Barley.
About Spotluck
Spotluck brings dynamic pricing to the restaurant industry with a gamified spin. Spotluck pioneered real-time discounts that fluctuate based on day, time, weather and other factors that impact restaurant occupancy. Their software yields higher discounts on rainy Mondays and lower discounts on sunny weekends. Spotluck's gamified spin on "deciding where to eat" makes the app fun for users, while its proprietary software maximizes occupancy (and profits) for local restaurants through smart discounts that change.
Spotluck first launched in Rockville, Maryland. It now partners with nearly 1,500 local restaurants in and around Maryland, Washington, D.C., Virginia, Pennsylvania, Delaware, New Jersey and New York. It is currently ranked as the number one "dining" app on the iTunes App Store. The app is free for consumers and available on both iOS and Android. More information can be found on http://www.spotluck.com.