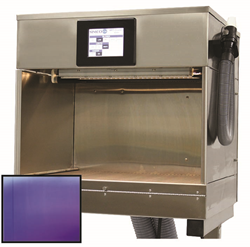 HATFIELD, Pa. (PRWEB) December 11, 2017
Simco-Ion, the world's largest manufacturer of static control products, is proud to introduce the new RPT Cleaning Cube. The RPT Cleaning Cube combines the power of recirculated airflow, HEPA filtration and static neutralization to effectively clean trays and parts without the need for compressed air.
Dual blowers located inside an acoustically insulated blower box force the recirculated air to the top plenum. The air passes through a HEPA filter and two static neutralization bars before reaching the large cleaning chamber via 128 high force jets. Operating at less than 70 dB, the quiet machine requires only a standard wall outlet. The height adjustable stand provides portability and reduces the need for bench space. Other features include an optical sensor for automatic operation, UV and white light to assist in a thorough inspection process and a flexible air-wand for pinpoint cleaning applications. The innovative RPT Cleaning Cube easily cleans and captures particulates permanently and quickly.
About Simco-Ion:
Simco-Ion is the worldwide leader in static control technology, offering custom solutions for a wide range of industrial applications. With a focus on continuous improvement, Simco-Ion is dedicated to developing advanced products designed to improve productivity through enhanced system performance and operation. Worldwide sales support provides unsurpassed customer service and application analysis that continues to drive product excellence. Simco-Ion is part of Illinois Tool Works Company, a diversified manufacturer of highly engineered components, industrial systems and consumables with annual revenues of $14.5 billion. The Company consists of approximately 800 business units in 57 countries and employs some 49,000 people.