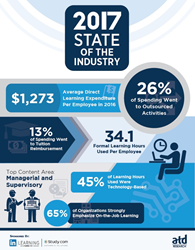 ALEXANDRIA, Va. (PRWEB) December 12, 2017
Organizations are continuing to make healthy investments in employee learning, and employees are spending more time learning, according to the just-released 2017 State of the Industry report from the Association for Talent Development (ATD). The study was sponsored by LinkedIn Learning and Study.com.
Organizations spent $1,273 per employee in 2016, up 1.8 percent from 2015, according to the research. This is the fifth consecutive year that per-employee spending on learning has increased.
Developing the knowledge, skills, and abilities of the workforce continues to be a priority for organizations. The use of technology to deliver training continues to increase; however, nearly half of all learning is still delivered live, face-to-face in a traditional classroom.
ATD's 2017 State of the Industry report is based on a survey of nearly 300 organizations of various sizes, industries, and locations. Key findings include the following:

Per-employee spending increased in 2016 to an average of $1,273 per employee (from $1,252 in 2015).
Employees averaged 34.1 hours of training in 2016, compared with 33.5 hours in 2015.
26 percent of direct learning expenditures went to outsourced or external activities.
13 percent of direct learning expenditures went to tuition reimbursement.
The average cost per learning hour used slightly decreased from $82 to $80.
The top three areas of training content in 2016 were managerial and supervisory (14 percent), mandatory and compliance (11 percent), and processes, procedures, and business practices (10 percent).
Instructor-led, live face-to-face classroom was the delivery mechanism for 49 percent of learning hours used in 2015.
Technology-based learning accounted for 45 percent of learning hours used, up from 41 percent in 2015.
On-the-job learning was a key part of employees' development experiences; learning that occurs during work was emphasized heavily in two-thirds of participating organizations.
The ATD 2017 State of the Industry report is free to ATD members and is available on the ATD Store. ATD members can also access the report on the ATD Publications app. A free webcast about the report's findings will be held on Monday, December 18, 2017.
About ATD
The Association for Talent Development (ATD) is the world's largest professional membership organization supporting those who develop the knowledge and skills of employees, improve performance, and help to achieve results for the organizations they serve. Originally established in 1943, the association was previously known as the American Society for Training & Development (ASTD).
ATD's members come from more than 120 countries and work in public and private organizations in every industry sector. ATD supports talent development professionals who gather locally in volunteer-led U.S. chapters and international member networks, and with international strategic partners. For more information, visit http://www.td.org.
###