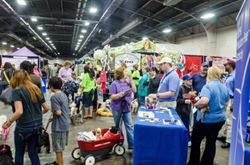 DENVER (PRWEB) December 08, 2017
Denver pet lovers, pet parents, pets and their families are gearing up for another exciting, tail-wagging experience as organizers announce their 2018 return to the "Mile High City". The eighth annual Denver Pet Expo is being held at the National Western Complex, allowing organizers to expand and continue the shows growth. The expo opens to the public on Saturday, August 18th, 10:00 AM – 5:00 PM, and Sunday, August 19th, 11:00 AM – 4:00 PM. Organizers have also announced that the event will be ticketed for the first time. Tickets can be purchased online at http://www.denverpetexpo.com.
"After the expo last year, we had a really great response about moving to the National Western Complex, says Ethan Barnett, Vice President of Events. "This years' event promises to include more vendors than ever, and exciting new features for the expo."
As always, the expo will feature a huge mega-adoption event with a variety of adoptable pets that are looking for a new forever friend. Attendees and their pets can also check out the Lure Course, the bird area, and an exotic reptile and wildlife area. Other features of the event include live presentations on the Entertainment Stage, pet contests, free nail trims, and low-cost vaccinations.
Organizers of the Pet Expo invite attendees and their pets to explore more than 150 vendor booths featuring various unique pet products, pet clothing and accessories, pet treats, and more. In addition, attendees can learn about exotic animals and wildlife conservation as well as local rescue organizations and how they can help save, foster, adopt or care for local animals in need.
"A huge part of our initiative is to help people become better pet companions, says Barnett. We're so ecstatic to continue to highlight the local pet scene and those doing amazing work within the community."
The indoor, and air-conditioned Denver Pet Expo attracts more than 13,000 attendees along with their furry, feathered, and reptilian pals looking to enjoy a one-of-a-kind experience where all pets can enjoy a fun day or two out on the town with their pet parent(s). All well-behaved pets are welcome, as long as they're on a fixed lead (or in a carrier) and have proof of age-appropriate rabies vaccines.