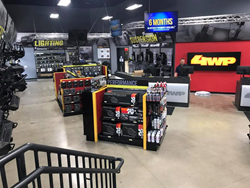 COMPTON, Calif. (PRWEB) December 08, 2017
4 Wheel Parts, the global leader in off-road aftermarket performance product sales and installation, is holding dual grand reopening celebrations at two of their Florida retail locations, West Palm Beach and Jacksonville, this Saturday, December 9, 2017. The family-friendly events will feature exclusive discounts, product giveaways and installation specials as the newly remolded, interactive, off-road superstores are officially unveiled. The celebrations will provide visitors their first opportunity to experience the new, state-of-the-art showrooms and service bays in person.
"With so many Jeep and truck enthusiasts here in Florida, particularly Jacksonville and West Palm Beach, these are important and vital markets to our company," said 4 Wheel Parts Regional Manager, Garrett Higginson. "We have our own unique style for customizing Jeeps and Trucks here, and 4 Wheel Parts has been proud to bring so many of our customers' visions to life. Our new, state-of-the-art showrooms now have so many more great products and accessories to experience, the options are limitless. We're excited to share this innovative off-road retail experience with the community as we reopen the doors at both locations."
The grand reopening events provide attendees the chance to experience the brand-new showrooms which exhibit an array of products while engaging with the teams of off-road performance specialists who will be providing their expertise. Numerous industry-leading manufacturers such as Pro Comp, Rubicon Express, Poison Spyder, G2 Axle and Gear, Wheel Pros and BF Goodrich will be on-site at both venues displaying and demonstrating their latest products. The events will also have entertainment for the whole family along with DJs, a car crush, RTI Ramp and numerous contests with prizes awarded to the winners. Visitors will also be treated to complementary barbecue. Up for grabs throughout the day will be 4 Wheel Parts Gift Cards, prizes from ARB, Method Race Wheels and Traxxas along with a $500 4 Wheel Parts shopping spree and much more.
ASE-certified technicians will be on-site providing installation discounts on select products purchased in addition to exclusive one-day specials.
"We have built a tremendous relationship with many of the great off-road and Jeep clubs in the area and we're looking forward to their joining us for our grand reopening events," said Higginson. "From the hard core off-roader to anyone who is looking to inject more functionality or individualized personality into their rig, we take pride in knowing whether a customer chooses to come see us or order their parts online and pick them up in-store, we have the parts and expertise they are looking for."
What: 4 Wheel Parts Grand Opening Celebrations
When: Saturday, December 9th - 9 a.m. – 5 p.m.
Location 1:
4 Wheel Parts Jacksonville
13920 Alvarez Road
Jacksonville FL 32218
Location 2:
4 Wheel Parts West Palm Beach
2240 N. Military Trail
West Palm Beach FL 33409
Complimentary Admission
About 4 Wheel Parts
4 Wheel Parts is the global leader in truck, Jeep, SUV and off-road performance products. With 84 locations across the U.S. and Canada and growing, 4 Wheel Parts Service Centers install all the products they sell. Maintaining the nation's largest inventory of off-road tires, wheels, suspension products and accessories, 4 Wheel Parts serves customers across the country and around the globe. Life is Better Off-Road™. Visit them at 4wheelparts.com or call toll-free 877-474-4821