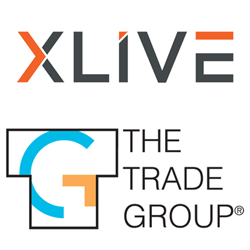 Since we specialize in eSports, live events and brand activations, coming on as a Presenting Sponsor for XLIVE seemed like a natural fit for us.
DALLAS (PRWEB) December 11, 2017
At XLIVE 2017, The Trade Group will join forces with a host of influencers who specialize in transforming live events into memorable experiences. The event will be held December 10-13, at the Mandalay Bay Resort and Casino in Las Vegas, Nevada. The annual conference draws players from the music, advertising, sports, film, culinary, beverage, eSports and tech industries.
This will be the first year that The Trade Group will be a sponsor of the growing event. According to Chris Stone, President and Co-Founder of The Trade Group, "Since we specialize in eSports, live events and brand activations, coming on as a Presenting Sponsor for XLIVE seemed like a natural fit for us."
XLIVE also provides an ideal environment in which to feature the company's AirClad line of modern, portable, architectural structures. The Trade Group rents the customizable structures for festivals and brand activations, as well as other live events and experiences.
The Trade Group will provide two larger AirClad units for the event, including an XPO6x5 for XLIVE's booth and speaker's lounge and an XPO6x2.5 unit for co-sponsor FISH Technologies. Three smaller AirClad structures will also be featured at the show: An OiO with charging stations; a Yum Yum for disbursing bottled water; and a Snoozy positioned in The Trade Group's booth.
To help raise awareness about the AirClad line, all attendees will receive an "AirClad Passport" upon entry to the event. Visiting and receiving a passport stamp at all five featured AirClad structures will qualify the attendee for entry into a $250 gift card drawing. The winner will be announced during the cocktail reception The Trade Group is hosting for XLIVE exhibitors and attendees on Tuesday, December 12, from 6:45-8:45 p.m. in the exhibit hall.
"The reception will feature an après ski vibe, where guests can enjoy music by DJ group TELYKast. The DJ space will include a high-tech, LED backwall sponsored by our A/V partner, Reaction Audio Visual. Along with cocktails and music, guests can also take advantage of a Christmas-themed multi-cam photo opportunity," says Stone.
Another $250 drawing will be held for entrants into the company's Gingerbread Snoozy contest. Fifty attendees received the Gingerbread Snoozy kits prior to the show and were asked to post photos of their completed work on The Trade Group's social media sites. The Trade Group also created a diorama of a Snoozy Village that will be featured at its booth throughout the show.
Lastly, The Trade Group's Neeshu Hajra, VP of Business Development and leading expert on eSports activations, will be moderating as well as sitting on several panels for the XLIVE 2017 eSports Workshop being held on Monday, December 11th from 9:00 a.m. to 12:30 p.m.
To learn more about The Trade Group, the AirClad line of mobile, architectural structures and the company's comprehensive line of products and services for the eSports and live event industries, call 800-343-2005 or visit http://www.tradegroup.com.
About The Trade Group:
The Trade Group is a full-service, award-winning provider of products and services for trade shows, corporate events, retail environments and an endless array of face-to-face experiences and activations. The organization helps clients share their unique stories through a comprehensive suite of solutions that includes: exhibit design and fabrication, graphic design and production, exhibit management, digital applications, experiential marketing activations, event coordination and production, videography, strategic marketing and more.