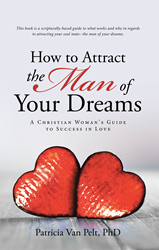 CHICAGO (PRWEB) December 11, 2017
After finally finding and marrying the love of her life, Illinois State Senator Patricia Van Pelt, Ph.D., has released "How to Attract the Man of Your Dreams," a guide for the modern Christian woman to learn how to take charge of her love life as well as attract men toward the church in the process.
Christianity has historically taught women to idly sit by and wait for men to ask for their hand in marriage, but Van Pelt attempts to change this in her book.
"The Bible says it's the woman's job to lead men to a life of dedicated service with love," Van Pelt said. "There is biblical evidence women should deliberately work to attract the men they're interested in courting."
Amazon reviews describe the book as "a must-have for any Christian woman seeking a God-fearing man…its spirit-filled words will inspire women to snap out of complacency when seeking a husband."
"This book uses the word of God to show women how to eliminate all their doubts about loving and being loved by their perfect person," said Van Pelt.
"How to Attract the Man of Your Dreams"
By Patricia Van Pelt, Ph.D.
ISBN: 978-1512786101 (softcover); 978-1512786118 (hardcover); 978-1512786095 (electronic)
Available at the WestBow Press Online Bookstore, Amazon and Barnes & Noble
About the author
Born in Chicago, Patricia Van Pelt, Ph.D., is an evangelist, author, entrepreneur, overcomer, and an Illinois State Senator. Thus far, she has served two terms. Van Pelt has traveled around the world preaching the Gospel and helping to establish churches under the leadership of her pastor. She remains active in the ministry of Jesus Christ and continues to work toward helping people overcome the challenges of living for God in a secular-based world.
You can connect with the author by visiting her Twitter, @SenVanPelt.
###
Review Copies & Interview Requests:
LAVIDGE – Phoenix
Kalin Thomas
480-648-7560
kthomas(at)lavidge(dot)com
General Inquiries:
LAVIDGE – Phoenix
Mark Flores
480-648-7534
mflores(at)lavidge(dot)com