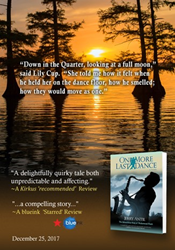 "Every Veteran is a true hero."
Dallas, Texas (PRWEB) December 10, 2017
"It's time we all got along," says Antil. "It's time we put politics aside and set an example that we are the giving, caring people we once were." To make his statement, every VA Hospital in Louisiana (first) and then every VA Hospital in America, will receive a carton filled with various Antil books for their libraries. "Veterans are our heroes," says Antil. "Hospitalized veterans often times go forgotten."
One More Last Dance, by Antil, is launching on Christmas day with 'starred', and 'recommended read' reviews, both in America and in the UK. Interestingly the novel is about an aging, retired army officer who happens to be black.
An adventure-driven novel chronicles an eventful road trip taken by a dying man and the Cajun French version of Forrest Gump.
Boudreaux Clemont Finch generally responds to Peck—short for Peckerwood—a moniker he was given as a child for his imprudent loquaciousness. Peck works at a hospice in Carencro, Louisiana, as a yardman and caretaker, and one of the patients—Gabe Jordan—conspires to escape with his help. Gabe, an older man who's dying from stomach cancer, is a widower whose son died while serving in Iraq. He wants to make his way to Newport, Rhode Island, for a jazz festival there, but due to Peck's errant navigation, they find themselves in New Orleans. Gabe decides to make the best of their detour, and they head to famous Frenchman Street to hear some jazz...
...Antil (Return to Tiffany's, 2017, etc.) has a gift for conjuring magnetically complex characters, with Peck the best of them: an illiterate, nearly incomprehensible, French-speaking 25-year-old man who's so deeply sensitive he's irresistible to women...
...But the story as a whole brims with charm and authentic emotions.
A delightfully quirky tale both unpredictable and affecting." KIRKUS Recommended Review