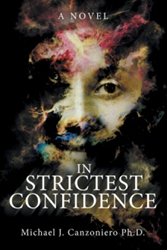 BROOKHAVEN, N.Y. (PRWEB) December 11, 2017
As a psychologist, [Michael J. Canzoniero Ph.D. is a staunch advocate for the protection of children. He writes "In Strictest Confidence" (published by Archway Publishing) in the hope that readers will become more aware of the horrors of child abuse. This novel examines the evolution of emotional disorders in adults who were abused children. Importantly, it discloses how attempts to handle those problems can lead to constructive resolution or to self-destruction.
The book tells the story of disgruntled detective William Hael who had prayed for an interesting case which would bring him out of the depression he had been in since a drunk driver killed his wife and son. He was not sure getting the case of a brutally crucified bisexual school teacher was the answer to his prayer. Was it a hate crime? Does his friend, the psychologist who has treated all the suspects, really know who the killer is? Will the psychologist be killed next? Is the killer the paranoid schizophrenic? Is he the patient with the antisocial personality disorder? Is the killer the one concealing multiple personalities?
"Most thrillers are plot driven. Mine is a character-driven story," Canzoniero points out. "Readers will learn, not only about child abuse, but about the terrible impact of alcoholism on family members. They will read about several interesting psychiatric disorders such as paranoid schizophrenia, anti-social personality disorder, and multiple personality disorder which is now called dissociative identity disorder."
"I hope readers will be more understanding of individuals who have lived through their abuse and are struggling or have struggled to become psychologically healthy. I hope they will examine what we, as a country are doing to stop child abuse."
"In Strictest Confidence"
By Michael J. Canzoniero Ph.D.
Hardcover | 6 x 9in | 308 pages | ISBN 9781480848849
Softcover | 6 x 9in |308 pages | ISBN 9781480848832
E-Book | 308 pages | ISBN 9781480848856
Available at Amazon and Barnes & Noble
About the Author
Michael J. Canzoniero Ph.D. earned his doctorate degree from St. John's University in Queens. As a licensed psychologist, he has expertise in the field of substance abuse. He has worked not only with the adults whose lives were ruined by drugs and alcohol, but also with the children who were physically and/or sexually abused by them. He is passionate about helping people become aware they can break free of their childhood roles, resolve their issues and liberate themselves to enjoy healthy lives. He and his wife, Dianne, have been married for 47 years. They live in Shoreham, on Long Island. He is the proud father of four adult children and the happy papa to his 11 grandchildren. He is into scuba diving, photography, golf and loves the Yankees.
Simon & Schuster, a company with nearly ninety years of publishing experience, has teamed up with Author Solutions, LLC, the leading self-publishing company worldwide, to create Archway Publishing. With unique resources to support books of all kind, Archway Publishing offers a specialized approach to help every author reach his or her desired audience. For more information, visit http://www.archwaypublishing.com or call 888-242-5904.