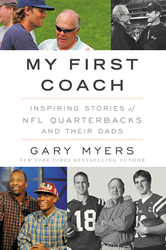 Give the gift of reading. Books are the best gifts of all.
DALLAS (PRWEB) December 18, 2017
Give the gift of reading. What better time than now to discover new books that inspire, teach, motivate, and rejuvenate.
SPORTS
From the NY Times bestselling author of "Brady vs. Manning" and the dean of football writers, Gary Myers, comes "MY FIRST COACH: Inspiring Stories of NFL Quarterbacks and Their Dads." Recognized as one of the most respected and credible writers for the integrity of his stories, Myers gets up close and personal with some of the most famous NFL Quarterbacks including: Eli Manning, Derek Carr, Jameis Winston, Joe Flacco,Tom Brady, Phil Simms, Jim Harbaugh, John Elway, Ryan Fitzpatrick and Joe Montana to explore how each took advantage of or overcame their relationships with their dads to become the legends they are today. Compelling stories that will shock and amaze. Stories that will resonate with aspiring athletes, parents, and sports fans in general.
INSPIRATION | MOTIVATION
Running strong at 100, Orville Rogers, track star, pilot and philanthropist invites readers inside his amazing journey with "THE RUNNING MAN: Flying High for the Glory of God." A fascinating look inside the life of an extraordinary man who continues to inspire, motivate, and challenge others to enjoy everything life has to offer. The story of Orville Rogers is about the good guy finishing first, but he will tell you in no uncertain terms that all the good in his life - and there has been much - comes directly from God.
HUMAN INTEREST
For people who want to make a difference in the world, but not sure how to start "DIG WHERE YOU ARE: How One Person's Effort Can Save a Life, Empower a Community and Create Meaningful Change in the World" by Nan Alexander Doyal profiles the stories of seven remarkable people who have solved some of the biggest challenges facing our societies today to inspire and teach others how they can too. You need not look far, you are already there––you just have to start.
"Say Yes to Life" by Ilse Anderson, a stage 4 oral cancer survivor, offers hope and inspiration to others to teach and remind us all how to live life to the fullest. Everyone faces setbacks in life. How we react to them can impact the outcome. Learn the secrets to prevailing against the odds.
HISTORY | POLITICS
"DESERT DIPLOMAT" by former U.S. Ambassador to Saudi Arabia, Robert W. Jordan, invites readers to a front row seat to history and provides them with an eye-opening look inside what it really means to represent your country, and the responsibilities thereof. Jordan continues to be a sought out commentator addressing current issues related to the Middle East as seen on MSNBC, CNBC, CNN International, FOX News, and FOX Business among other media outlets.
"PRESIDENTIAL LIBRARIES as PERFORMANCE: Curating American Character from Herbert Hoover to George W. Bush," by Jodi Kanter reveals the inner workings of creating presidential libraries and museums. Also good reads "IS THIS SEAT TAKEN: Random Encounters That Change Your Life" by Kristin S. Kaufman--if you think "random encounters" are incidental, think again, and "FUNDRAISER A: My Fight for Freedom and Justice" by Robert Blagojevich -- a gripping true story inside the DOJ.