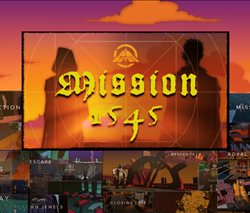 Spot on voice acting, intelligent music and an art that is hard to describe..
LONDON (PRWEB) December 13, 2017
THE WORLD
Mission set, players must start by dodging a self-loathing Jailer in his vertiginous tower at Newgate. If they get out of jail free, Aldersgate theatre follows that with a world of exotic props and toys backstage where the masks have the final word. Then, from comedy to tragedy, players will move on to Cripplegate hospital where mercy killing is allowed as few get out alive. But play their cards right and Moorgate Inn follows, where an excursion to Bedlam is on offer.
Brewers are the rockstars of Aldgate and their attic is an enchanted Hop Forest and last stop before the Tower of London. In keeping with the general mash-up of fact and fiction this is home to the King (Henry VIII), a couple of his late wives, Beefeater guards and the Executioner. Gallows humour abounds as players navigate this last labyrinthe through the the Royal Mint coin presses, an Armoury and Crown Jewels as they hunt for the cell where the prisoner is held.
GAMEPLAY
Light cones indicate enemy sight and players falling into them are returned to the last checkpoint. Mission 1545 is an isometric world of colour and architecture designed to emphasise the contrast between light and shade, with puzzle-style sequences unlocking the way ahead. With on/off hints, God views, level skipping and immersive soundscapes City Quest Media hopes to attract new audiences to gaming.
STUDIO
City Quests Media is a small team dedicated to making games designed to immerse players in history through rich 3D soundscapes, stories and therapeutic non-combat play. The Mission 1545 soundtrack is a smoky mix of medieval electronica and driving percussion, choirs and bass composed by Martyn Ware. World renowned surrealist illustrator, Finlay Cowan worked with Founder, Natasha Seery re-imagining the real city gates and cast of characters, who were scripted by London's favourite writer-historian, David Long. Isabelle Allen (Poster Girl 'Cosette' from Les Miserables) voices Willa, and vocal chameleon Enn Reitel (Spitting Image, Tintin, Monty Python) plays most of the men.
GAME FEATURES

50+ locations to explore.
Soundtrack by multi award-winning composer fusing voice, choir and instrumental music.
Fully animated and voiced story-telling.
30+ hand-drawn, animated cut-scenes.
With on/off hint options players of all levels can win the game.
Subtitles: Chinese (Simplified), French, German, Japanese, Korean, Russian, Spanish.
Mission 1545 is available for Windows and MacOS from Steam $4.99