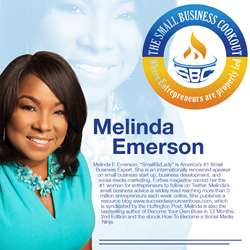 "We are thrilled to host Melinda Emerson and other inspiring women at this year's Conference," said Rod Brown, COO of OnceLogix and Creator of The Small Business Cookout. "These women are activists and leaders in their fields and their collective wisdom challenges us all to make the most of our own
(PRWEB) December 11, 2017
Melinda Emerson, Social Media and Content Strategist, Keynote Speaker, and Bestselling Author will keynote The Small Business Cookout (SBC) on Friday, February 10, 2017. Emerson, known as "SmallBizLady," will address this year's SBC theme, "Building an Undeniable Brand" along with a host of nationally recognized speakers.
Registration is now open for the two-day conference, which will be hosted at the Hilton Charlotte Center City. Attendees will be immersed in knowledge and best practices that will take the individual and their business to the next level. The event will bring together leading professionals to expose entrepreneurs to mastery techniques in leadership, marketing techniques, being authentic, growing their businesses, the "why" behind what each entrepreneur does, and much more.
On Friday, guests will join empowering talks that include: "Three ways to grow revenue," "How to be the authentic CEO," "The emotionally intelligent CEO" and more. Also, there will be two panels. The first, "The seven-figure sandbox" where attendees can listen to million dollar gladiators who have generated over seven-figures. Here, the guests will find out what it takes to play in that sandbox. The second one, "Get Funded" is where attendees will learn about unique ways to fund their business in today's funding climate.
On Saturday, also coined "Action Saturday," SBC will host the Stand and Deliver-Pitch Competition. Registrants will have an opportunity to pitch their businesses and could walk away with money and services. There's also a speed-mentoring event and early risers can make it sweat in a mini boot camp to get their blood stirring and mind ready for the rest of the day. VIP registrants will have the opportunity to receive business coaching from individual experts that have sustained successful small businesses.
Melinda Emerson began her professional career in television as a producer. Within five years, inspired by Oprah Winfrey's HARPO Studios, Inc., she left television to pursue her entrepreneurial dream to create an award-winning media company. As the founder and CEO of Quintessence Group, Melinda is a leading expert on small business development. She publishes a resource blog http://www.succeedasyourownboss.com, which is syndicated by the Huffington Post. Melinda hosts #Smallbizchat a weekly talk show on Twitter to discuss everything entrepreneurs need to know about launching and running a profitable small business. Melinda's business advice is widely read reaching more than 3 million entrepreneurs each week online. Melinda is also the bestselling author of Become Your Own Boss in 12 Months, 2nd Edition and the eBook How To Become a Social Media Ninja.
"I am grateful to keynote this conference, I'm so passionate about helping entrepreneurs live their dreams," said Emerson. "If your actions inspire others to dream more, learn more, do more and become more, then you did your job."
For more information about the Small Business Cookout and to register, please visit the conference website here: https://www.eventbrite.com/e/the-small-business-cookout-charlotte-nc-tickets-39480601542