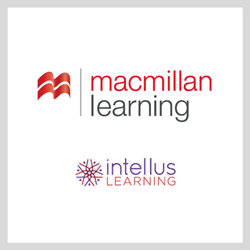 We are committed to making it incredibly easy for faculty to deliver high quality, free and low cost course materials to students – with curated content, open materials, and academic library content. --Macmillan Learning CEO, Ken Michaels
New York, New York (PRWEB) December 12, 2017
Macmillan Learning has expanded its affordable course offerings with new services available through Intellus Learning. Intellus, acquired by Macmillan last year, provides access to the first and only easily curated collection of open educational resources (OER) and academic library materials, enabling educators to easily select and deliver free and low-cost course materials to their students, all through the school's LMS.
"Macmillan Learning is committed to helping faculty and administrators find the best and most affordable learning resources for their students," said Ken Michaels, CEO of Macmillan Learning. "However, what that looks like can vary greatly by institution, discipline, educator, and student populations. For some, the most effective, affordable learning solution is a digital textbook or the instructor's notes coupled with an adaptive learning and assessment technology, like Sapling. For others, open resources are the desired solution. We are committed to providing affordable options for whatever faculty determine are best for their students, and that partnership includes providing them with a trusted pathway to get there."
Intellus Learning's taxonomy enables faculty to easily find, filter, and curate any openly-licensed content and academic library content that the institution has already paid to access to create or modify pre-built courses by topic, learning objective, traditional textbook chapters and accessibility rights.
"While most OER solutions available today focus on a few high enrollment introductory courses, Intellus Learning makes it easy for colleges to scale their affordability initiatives across the curriculum," stated Macmillan Learning Institutional General Manager, Craig Bleyer. "We have partnerships in place with many universities and they are telling us that this platform allows them to use Macmillan content and services as well as open materials for their courses."
Macmillan and Intellus also provide a key benefit for course designers as they can now aggregate and filter any open educational content - including OpenStax digital books - and academic library materials, allowing faculty to easily build courses that traditional OER solutions have not been designed to reach.
"Intellus Learning offers a way for faculty in higher education to provide students with high-quality free open source educational materials," said Dr. Michelle Majewsk, Special Assistant to the Vice President for Academic Affairs at Marian University. "It does so by making the process of curating digital course learning materials straight-forward and easy. It levels the playing field for the plethora of students who find it challenging to pay for the high cost of textbooks, both print and digital."
Macmillan Learning will soon launch pre-built Intellus OER courses in 2018, including basic skills diagnostic and remediation courses, which will continue to feature hallmark services of easy customization and content "remixing."
"We are committed to making it incredibly easy for faculty to deliver high quality, free and low cost course materials to their students – with curated content, open materials, and academic library content," said Mr. Michaels. "Having access to quality resources is critical to achieving desired student outcomes, as is academic freedom. Intellus empowers faculty to deliver on all of these goals at prices that offer choice to students and institutions."
To learn more about Macmillan Learning's OER solution, please visit: https://intelluslearning.com.