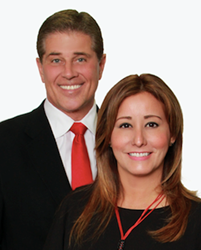 From Toronto to Caracas and Brussels to LA, we're connected to our clients in a very special way. We absolutely love what we do.
PALM BEACH, Fla. (PRWEB) December 11, 2017
Haute Residence welcomes acclaimed realtors, Frank Kirschner and Veronica Caracciolo to its invitation-only network of top brokers. As Haute Residence partners, Kirschner and Caracciolo exclusively represent the high-end real estate markets in West Palm Beach, Jupiter and Wellington, Florida.
Combining well over 25 years of international real estate experience, Kirschner and Caracciolo provide a depth of knowledge and industry insight few possess. As founders of Palm Beach Lux Group, they blend disparate backgrounds to deliver unsurpassed services that are rooted in professionalism and integrity.
Raised in Venezuela, Caracciolo speaks Italian, Spanish and English. She focuses on luxury homes and condominiums. She has worked with the team at the Ritz Carlton and knows the South Florida market extremely well.
Kirschner's resume runs deep and wide, from Top Sales Awards to Company ownership and several executive leadership roles over an impressive history in the US and Canada. He has served as Vice President/Director of Canadian Operations for Prudential RE. Kirschner's negotiation skills and knowledge of the South Florida market give his clients a definite edge.
Accomplished brokers on their own, Kirschner and Caracciolo are a respected internationally experienced couple who clients love working with.
"From Toronto to Caracas and Brussels to LA, we're connected to our clients in a very special way," they say. "We absolutely love what we do."
About Haute Residence:
Designed as a partnership-driven luxury real estate portal, Haute Residence connects its affluent readers with top real estate professionals, while offering the latest in real estate news, showcasing the world's most extraordinary residences on the market and sharing expert advice from its knowledgeable and expe-rienced real estate partners.
The invitation-only luxury real estate network, which partners with just one agent in every market, unites a distinguished collective of leading real estate agents and brokers and highlights the most extravagant properties in leading markets around the globe for affluent buyers, sellers, and real estate enthusiasts.
HauteResidence.com has grown to be the number one news source for million-dollar listings, high-end res-idential developments, celebrity real estate, and more.
Access all of this information and more by visiting: http://www.hauteresidence.com