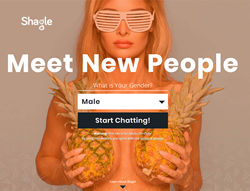 Early investors and backers are rewarded with a discounted price for the Shagle Coin while also becoming involved in an exciting and progressive project with huge potential
LOS ANGELES (PRWEB) December 11, 2017
Shagle Coin, the first blockchain-based cryptocurrency for random video chat applications, has made 25% of its finite token supply available from December 11th, 2017. By launching in this way, qualified investors and backers are able to purchase the Shagle Coin at a discounted rate for the duration of the SAFT Sale or until the allocated 120,000,000 coins have been sold. As detailed in the Shagle Coin Whitepaper, the initial SAFT Sale price of 0.05 cents per coin is discounted by 50% and will double to 0.10 cents per coin by the time of the ICO Public Sale on May 24th, 2018. SAFT Coins purchased will be activated on May 14th, 2017 and can be traded, used, or kept for the ICO Offering and beyond.
A SAFT is a Simple Agreement for Future Tokens which allows investors and backers to purchase coins before they exist or are made available for public consideration. By using a SAFT Agreement, the issuer can comply with basic identity and security checks and also ensure coins sold during this period are treated as securities and adhere to relevant regulations. During the SAFT Sale period, investors are limited to a minimum purchase of 500,000 Coins and a maximum purchase of 10,000,000 Coins. The Shagle Coin SAFT Agreement is available to read in full here.
"By launching a SAFT Sale for Shagle Coins we are meeting early demand from interested parties while complying with the necessary regulations," said Shagle Press Director, Shea Robins, "Early investors and backers are rewarded with a discounted price for the Shagle Coin while also becoming involved in an exciting and progressive project with huge potential."
The Shagle Coin is a unit of currency that will be used across the Shagle platform. The Coin will allow members of the service to purchase premium features, buy virtual gifts for other members, and buy, sell, and trade the Coin across the platform. Shagle is an established video chat platform with over 60,000 members signing up since the launch of a membership option on November 28th, 2017. The number of memberships is expected to grow at a rate of between 15,000 and 30,000 new signups per week over the next six months. This rate of growth provides a solid foundation for the use of the Shagle Coin across the platform when use of the Coin is launched.
Important Links:
Shagle Coin Page: https://shagle.com/coin/
SAFT Agreement: https://shagle.com/coin/shagle-coin-saft.pdf
Shagle Coin Whitepaper: https://shagle.com/coin/shagle-coin-white-paper.pdf
About Shagle
Shagle is a free webcam chat site where people can use their webcam to connect with random strangers from around the world. The site is anonymous and allows users to connect instantly with strangers looking for random cam to cam conversations. Shagle is available in six languages including English, German, Spanish, French, Portuguese and Italian, with millions of monthly users and billions of connections since launching in 2015. Shagle offers unique features such as the ability to only connect with users from a particular country and an android friendly layout for mobile users of the site.