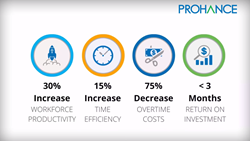 (PRWEB) December 15, 2017
Lean is an approach to organizational improvement focused on continuously "eliminating waste" so that every process, task or work action is made valuable to the customer. The customer could be an internal or external organization. The key focus is on process speed and efficiency to eliminate waste within functions.
Lean Thinking differs from the traditional management thought of individually optimizing vertical departments, assets and separate technologies to taking a holistic view on the flow of products and services through the value streams across technologies, processes and departments. The idea is to create processes that need lesser human intervention, space, capital and time resulting in products and services that are more cost effective and have fewer defects.
Going Lean is about agility. Organisations must assess their current standing by measuring their performance against well-accepted benchmarks to improve processes and individual performances before they effect the required course corrections. This is an ongoing process with scope to improve operational efficiency with each assessment cycle.
Lean is relevant to businesses across industries and services. 'Lean Transformation' describes a company's journey of moving from a traditional way of thinking to lean thinking.
In knowledge-based businesses such as those in design, software development, consulting or other IT enabled services, Lean is directly dependent on employee productivity. This makes it imperative to identify and assess work-time leakages associated with an employee typically in 8-9 work hours. Work distribution identifies those who are underworked or overworked, re-allocate responsibilities, thereby achieving a positive work-life balance. Analysis of workstyles across teams is vital to understand the time spent on various categories of work and to identify areas of improvement.
Dr. Kishore Reddy of ProHance, says, "Our solution enables businesses to accurately measure employee productivity and effectiveness helping balance workloads in real time. Managers can make performance comparisons amongst teams across locations and identify the best performing teams/ individuals which would help in reducing effort, cost and wastage. An understanding of the efficiency levels of employee(s) across days and time goes a long way in maximizing productivity.
In fact one of our customers who is a large Tier 1 IT service provider embarked on a journey of achieving high performance culture and delivery excellence by implementing lean transformation practices. Since the process began last year, the customer has already seen an efficiency improvement of 25%-40% in projects and organizational processes. ProHance has been an integral part of this mission, automating the entire process of data collection through our Advance Analytics module for Lean, providing activity profiling and time management analysis thereby helping them manage wastage of intellectual resources."
For businesses looking to improve process efficiency and overall productivity, a solution like ProHance uses structured processes to improve process cycle time through the identification, reduction and elimination of process waste and non-value-added activities, in IT and IT Enabled organisations.
Technology is now the foundation to continuously evaluate work time leakages, work distribution patterns and work styles across the company, offering managers with critical inputs and enabling them to take informed decisions on work re-distribution, re-allocation of resources, employee retention, appraisals and more.
Companies are deploying such Lean Assessment technologies to reduce waste and gearing up to become Lean in 2018.