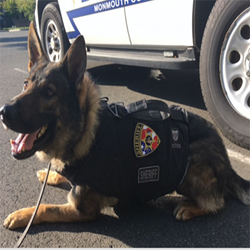 We hope our community will join us in helping to support the brave dogs that protect us from criminals by making sure they have the gear they need to stay safe
LAWRENCEVILLE, N.J. (PRWEB) December 13, 2017
John Noto, founder and manager of Noto Insurance Advisors, is announcing a charity campaign to help fund the purchase of bullet proof tactical vests for police dogs in the central New Jersey region. Vests range from $900-$2,900 in price, and tightening police department budgets don't always cover canine protective gear.
"We hope our community will join us in helping to support the brave dogs that protect us from criminals by making sure they have the gear they need to stay safe," said Noto.
The Noto team is implementing a donation plan that encourages community involvement in the form of referrals into the firm. For everyone sent into Noto Insurance Advisors to receive a no obligation quote on insurance, the firm will make a cash contribution to the police dog safety vest fund.
More information on how to be part of the ongoing charity drive is available here: http://www.notoinsuranceadvisors.com/Rewards-Program_57.
About Noto Insurance
The team at Noto Insurance Advisors is committed to offering the best insurance and financial services in the industry. In addition to providing clients with top-notch protection, coverage, and advice, Noto Insurance Advisors actively assists the local community by investing time and resources into charity campaigns directed at improving the quality of life of residents throughout New Jersey. A helpful Noto Insurance Advisors representative can reached at (609) 895-8450.