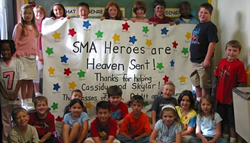 We are very proud to support this wonderful organization and help provide children with SMA with the support and services they need to overcome this tragic disease
SAVANNAH, Ga. (PRWEB) December 13, 2017
James Grusheski, founder and manager of the Old Savannah Insurance Agency, is announcing the launch of a charity drive in the eastern Georgia region to help provide services and treatment to children in the area struggling with Spinal Muscular Atrophy (SMA), a genetic disease that affects voluntary muscle and nervous system control.
Proceeds gathered during the charity drive will be provided to the SMA Angels, a nonprofit that works with children diagnosed with SMA. "We are very proud to support this wonderful organization and help provide children with SMA with the support and services they need to overcome this tragic disease," said Grusheski.
To organize community support, Grusheski and his team are asking residents to send in referrals to the firm and help generate donations. For every person referred into Old Savannah Insurance for a no obligation quote on insurance, the firm will provide a cash donation to the cause.
More information on how to be a part of the event can be found on this page: http://www.oldsavannahinsuranceagency.com/Rewards-Program_54.
About Old Savannah Insurance Agency
Old Savannah Insurance Agency's team mission is to provide the best insurance and financial services in the industry. Their number one job is to protect the assets for which their customers have worked so hard, and to help them invest so they may retire in comfort. Old Savannah's success is measured by customer satisfaction and the added value brought to their lives. To speak to a helpful and knowledgeable representative from Old Savannah Insurance Agency, please visit http://www.oldsavannahinsuranceagency.com/ or call 912-352-7620.