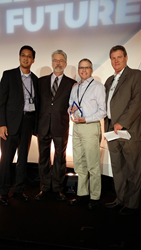 the home remodeling industry is ripe for innovation and we intend to remain at the forefront of that revolution
RESTON, Va. (PRWEB) December 12, 2017
This past fall, at the Extreme Sales Summit for Remodeling National Conference, Samsung teamed up with Professional Remodeler Magazine, to recognize innovation in the remodeling industry. With over 400 attendees, the award was presented by David Bernardino, Samsung's Marketing Director for Home Appliances, Sal Alfano, Director of Content, for Professional Remodeler magazine, and Mark Richardson, Author, Speaker and Residential Remodeling Pioneer. Samsung and Professional Remodeler magazine recognized Synergy Design & Construction for their ground-breaking efforts by awarding them with the 2017 Innovation in Remodeling Award.
Synergy's co-founders, Mark and Mina Fies, built their business to disrupt how remodeling is done. "We believe the home remodeling industry is ripe for innovation and we intend to remain at the forefront of that revolution." said Mark Fies, Chief Operating Officer of Synergy. "Bringing innovative practices to both homeowners and our fellow contractors is at the heart of everything we do."
They are no stranger to innovation. After starting Synergy in 2008 against formidable economic circumstances, Mark, along with his wife and business partner Mina, grew Synergy into a multi-million dollar firm using their proprietary process - the Renovation Roadmap. In addition, they incorporate ground-breaking techniques like using Feng Shui and other Interior Alignment® practices to customize the remodeling experience for their clients.
"We believe aligning your home can change your life, and that when you live better, you feel better." said Mina Fies. "Mark and I are passionate about taking the mystery out of the home remodeling process and empowering homeowners to start loving their homes again."
About Synergy Design & Construction
Synergy Design & Construction is an award-winning design/build home remodeling firm based in Reston, Virginia. Launched at the height of the 2008 recession, their against-all-odds success story has garnered both local and national recognition, several Master Design and Contractor of the Year awards and features on NPR and HGTV. Their commitment to innovative strategies for remodeling success includes the development of a proprietary homeowner interactive educational platform and project management system called the Renovation Roadmap™.