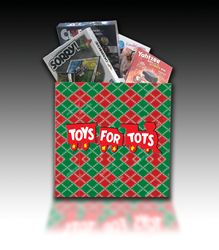 SOUTH HACKENSACK, N.J. (PRWEB) December 13, 2017
The objectives of Toys for Tots are to help less fortunate children throughout the United States experience the joy of Christmas; to play an active role in the development of one of our nation's most valuable resources – our children; to unite all members of local communities in a common cause for three months each year during the annual toy collection and distribution campaign; and to contribute to better communities in the future.
Essential Dental Systems is happy to be a part of the mission with the United States Marine Corps Toys for Tots Campaign making a child's Christmas joyful and bright. EDS will be donating an overwhelming abundance of toys to the Toys for Tots campaign once again this year. EDS looks to make this annual ritual among-st the company for years to come. At EDS donating toys is their way of giving back to the community in a small way but that has a huge impact to a child on Christmas.
For more information on the Marine Corps. Toys for Tots campaign please go to https://www.toysfortots.org/