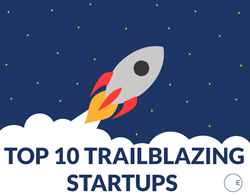 All of these startups have proven themselves to be truly innovative as well as stand out in their fields in one way or another. With all the groundbreaking progress made this year, we can't wait to see how they will do in 2018.
LONDON (PRWEB UK) 12 December 2017
Endorsed is celebrating the top breakout stars of technology startups of 2017.
WHO will take over the tech scene in 2018? These startups have not only disrupted the industry with their groundbreaking ideas and technology, they have also surpassed expectations with their growth and successfully executed their ambitious plans.
Here's their list of this year's startups with the most innovative business ideas that they predict will make major waves throughout 2018.
Pouch - Browser extension. "Never search for a voucher code again!"
Up Learn - Learning with certainty, powered by AI and neuroscience
Uberall - Control your locations, power your sales. Turn online data into offline sales.
N26 - The first bank you'll love to use. Borderless banking in real time.
Clue - Discover the unique patterns in your cycle. The best menstrual cycle app on the market.
Lemoncat - Food nourishes the work environment, innovative business catering.
Movinga - Automates your house moving process with pioneering high-tech solutions.
Jukedeck - Fuelling creativity using musical AI. Tools for creative people.
Five.ai - Replacing consumer vehicles with self-sufficient autonomous vehicles, by 2019.
Contentful - Don't let a CMS get in the way of shipping software. Try contentful.
About Endorsed Direct Hiring
Endorsed is an innovative startup in the recruitment technology scene. It has transformed the way recruitment works, with their direct hiring platform matching the best candidates and employers head on. This system has transformed the entire hiring process with its direct approach, making it faster, accurate and simpler for everyone.
If you're a candidate looking to get endorsed and hired by leading employers, or if you're an employer keen on connecting to a network of endorsed candidates, find out more at http://www.endorsed.com.
Endorsed is a major disruptor in the recruitment tech scene. It comes as no surprise that the London-based startup is growing at an rapid pace, with their direct hiring platform revolutionising how great employers hire great talent. They're taking Germany, UK and US by storm. Direct hiring platforms like Endorsed help candidates and employers communicate directly, making the whole hiring process faster, cheaper and simpler.