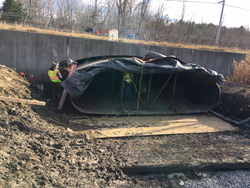 Greenman-Pederson Inc. chose InfraSteel based on the culvert rehabilitation solution's cost savings and life span projections.
BIRMINGHAM, Ala. (PRWEB) December 12, 2017
Schenectady County, New York chooses InfraSteel liner for its Duanesburg Churches Road Bridge Project. County engineers noticed that the 27-year-old corrugated metal arch was corroded and needed repair. The name "Schenectady" is derived from skahnéhtati, a Mohawk word meaning "beyond the pines." The county was settled in the 1600s by the Dutch and became the bread basket for the American colonies during the Revolutionary War. Thanks to the Erie Canal, the town not only became one of the major processing centers of cotton from the South, but also a center of commerce in the 1800s. In the 1920s, Schenectady was the chosen location for General Electric's first television broadcasts.
Schenectady County installed a corrugated metal arch culvert in 1990. The culvert has a 22-foot span. It is 6 feet high and 44 feet long. According to InfraSteel executive Cullom Walker, "County engineers noticed that the corrugated metal arch showed corrosion at the water line and separation at the seams. The County obtained federal funding to perform culvert repairs and hired Greenman-Pederson Inc. Engineering and Construction Services of Albany, New York to engineer the project. They looked at full replacement and lining options. A full replacement would cost $1 million and would create a 10-mile detour on a heavily traveled two-lane road. The opportunity cost for replacement was too high, so the Greenman-Pederson investigated various lining technologies. They chose InfraSteel based on the culvert rehabilitation solution's cost savings and life span projections."
D.H. Charles Engineering's Cardiff, California office was hired to do the load bearing requirements. They designed a slip liner to handle the traffic specifications supplied by the New York Department of Transportation. D.H. Charles Engineering recommended a carbon steel plate thickness of 1 3/8 inches with a 0.20 percent copper content to meet the 50-100-year life span specification. New York–based GPI and Winn Construction Services started the project two weeks ago. To meet environmental permitting requirements, a natural stream bed will be placed in the bed of the steel culvert. The stream will be diverted by using 8-inch bypass pumping. The water hoses will be pulled back through as each liner is added and welded in place. The annular space will be pumped with grout to fill any voids between the new liner and the existing bridge structure. The InfraSteel steel slip liner will cost $410,000.
Precision Pipe and Products has developed InfraSteel to rehabilitate failing culverts and bridges. InfraSteel provides a new life expectancy of 50 to 100 years and is a cost-effective and environmentally friendly solution for the repair of failing structures without traffic interruption. For more information about InfraSteel's culvert rehabilitation solutions, contact Cullom Walker at (205) 613-0072 or visit the InfraSteel website at http://www.InfraSteel.com.