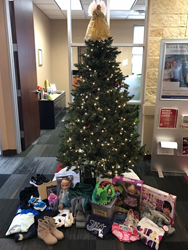 DALLAS (PRWEB) December 11, 2017
Resource One and its employees supported the Salvation Armies of Dallas and Houston by adopting several Angels from the Angel Tree program this year. The credit union and its employees provided 34 Angels clothing and toys, just in time for Christmas.
"The Angel Tree program is a fabulous opportunity to help local families this time of year. It truly demonstrations the credit union spirit of people helping people," stated Jennifer Grinder, Resource One Chief of Sale and Marketing.
The Salvation Army's Angel Tree program provides clothing, toys, and other much-needed items to underprivileged children and seniors. Compassionate citizens who wish to help a child during the holidays can stop at any Salvation Army Angel Tree or visit the Salvation Army website and select an Angel tag. Each tag provides the child's name, age, gender, clothing sizes, wish items, and necessity items.
About Resource One Credit Union
Resource One Credit Union was originally chartered as Sears Dallas Employees Federal Credit Union in 1936. Over time, the increased demand for more locations and additional products and services prompted the expansion of our product lines and field of membership. Today, Resource One proudly serves as a not-for-profit financial institution for the communities of Dallas and Northwest Harris counties. Resource One Credit Union has 11 convenient locations to serve our 60,000 and counting members. Visit Resource One Credit Union's homepage at http://www.r1cu.org.