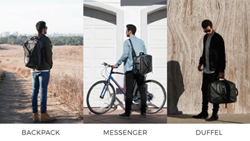 "We created LOOPBAG by replicating the distinct functions of different types of bags and packing them into one sleek, simple bag." CEO Hyuntae Roh.
NEWPORT BEACH, Calif. (PRWEB) December 14, 2017
LOOPBAG, the perfectly crafted bag designed for the modern man, is now available on Kickstarter. With its interchangeability, this product can function as a backpack, messenger bag and duffel bag, making it adaptable to any occasion. This bag eliminates the hassle of carrying multiple of bags and is ideal for short business trips, vacations and daily life. Through its versatile nature and intricate design, LOOPBAG sets the standard for convenience and style.
Two traps can be pulled out or hidden to transform the bag into the desired form. In addition, each bag has its own respective features that offer users unique functions. Its tremendous storage capacity, customizable compartment, bag extension, side strap storage and card pocket can accommodate the user's needs and daily patterns.
LOOPBAG is available in two appealing shades: Jet Black and Courtesy Grey. All of the fabric, fittings, and zippers are 100% produced in South Korea. To achieve premium quality and durability, it is manufactured through X-shaped processing and reciprocating stitch lines, rather than traditional sewing methods.
LOOPBAG's features include:

Hidden Straps: Two available straps to hide or take out for convenient rearrangement
Customized Compartment: Organizable dividers to store various small and large items
Backpack Extension: Enlargement of backpack storage capacity of up to 40 liters
Side Storage: Straps located on the sides of the bag to secure long items
Anti-Theft: Triple-layer fabric and integrated locks to protect belongings
Waterproof: Repels moisture when in contact with water
Pre-order of LOOPBAG is now available through the product's Kickstarter page http://kck.st/2jQt3GU, and it is a consumer-ready product with positive reviews. During the campaign, LOOPBAG can be purchased for $169 USD as the Early Bird price and $179 as the Regular Kickstarter price. When the campaign funding goal is achieved, the company anticipates manufacturing and delivery to be complete in April of 2018.
About LOOPSETTER
LOOPSETTER is a California-based startup developing premium products for everyday people. The products are designed and developed in Newport Beach, California and are manufactured in Seoul, Korea. LOOPSETTER's team of experts and engineers are fully dedicated to the slogan, "Form follows function," as they aspire to make the highest-quality bags for convenience and usability. More information can be found at their website: http://loopsetter.com/.