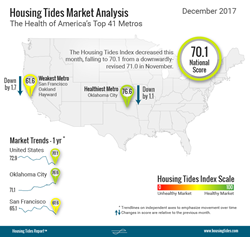 Only three of the markets tracked by Housing Tides showed a yearly decline in rent prices. Instead, annual rent growth topped 5% in 29 markets, with prices rising as much as 17.4% in Riverside, CA, 16.1% in Atlanta, GA and 15.6% in Salt Lake City, UT.
DENVER (PRWEB) December 12, 2017
This week marks the release of the December Housing Tides Report™, featuring an update to the Housing Tides Index™, an objective and sophisticated approach to quantifying and comparing the health of U.S. housing markets.
Understanding the health of a housing market and its relationship to other top markets requires an aggregated, comprehensive view of the industry. The Housing Tides Index provides a succinct monthly measure of market health across the top 41 U.S. markets. Referencing 18 market indicators ranging from unemployment rates and housing permits to rental vacancy and mortgage foreclosure rates, the Tides Index helps users understand exposure at a deeper level than is currently possible.

Job growth continues to outpace tepid housing construction across the U.S., with 2.97M net new jobs added but only 1.23M housing permits approved for the year ending September 2017. This is at odds with recently-released demographic data which show only 652k new households formed in 2016. The slow rate of household formation suggests that a large portion of the newly-employed workers have delayed forming new independent households. Analysis from the Pew Research Center showed 15% of 25- to 35-year-old Millennials currently living with their parents, and the National Association of Realtors estimates the first-time homebuyer share at 34%, below the historical average of 39%. These trends signal pent-up housing demand that is not translating to purchase activity, but should provide a supportive environment for housing moving forward.
U.S. rent prices continue to ease, with the median rent for a two-bedroom unit falling to $1,520 in October. Nationally, prices are down 5% in the last year, but the story is different at the metropolitan level. Only three of the markets tracked by Housing Tides showed a yearly decline in rent prices. Instead, annual rent growth topped 5% in 29 markets, with prices rising as much as 17.4% in Riverside, CA, 16.1% in Atlanta, GA and 15.6% in Salt Lake City, UT.
As many expected, U.S. mortgage delinquency spiked in September following the devastation of Hurricane Harvey across the South. The share of loans 30 or more days past due increased to 4.4% after totaling 3.93% in August. Black Knight noted that there is historical precedent for a September rise in mortgage delinquency; the delinquency rate increased month-over-month in September 2015 and 2016, but by a much smaller margin than this year. Unsurprisingly, Florida and Texas were affected the most by the recent surge, with the delinquency rate increasing from 3.9% to 6.7% in Florida and from 5.3% to 6.9% in Texas.
The U.S. unemployment rate fell again in October, dipping below 4% for the first time since December 2000. At the same time, the Bureau of Economic Analysis estimates that per-capita income increased to $49.2k in 2016, up 1.6% from 2015. Jointly, strong hiring trends and increased compensation have led to the most-optimistic consumer outlook since late 2000, with the Consumer Confidence Index edging up to 129.5.
Please reference the attached graph to view the Ten Healthiest U.S. Housing Markets - December, 2017.
Click here to view the complete Housing Tides Index of the top 41 U.S. markets.
Media Exclusive. Housing Tides Media Monthly Pulse.
Subscribe to our email service exclusively created for media which delivers an updated infographic depicting the latest monthly Housing Tides Index, the complete Index as it appears in the Housing Tides Report™, and a brief executive summary. All content can be shared in print and digital publications, with attribution to the Housing Tides Report.
Members of the media can subscribe to the Housing Tides Media Monthly Pulse here.
About Housing Tides
Housing Tides™ ("Tides") is the only monthly report that provides a comprehensive measure and aggregated understanding of the health of the U.S. housing and home building industry. Designed to take the guesswork out of the vast amount of forecasting information published about this sector, Tides is a sophisticated report that delivers city-specific, updated information when market conditions change. It is the only report that uses natural language processing and machine learning to correctly understand and synthesize large volumes of data, making it more comprehensive, balanced, and reliable than any other report of its kind. For further information, please visit housingtides.com and connect on Twitter, Facebook, and LinkedIn.
Housing Tides is proudly partnered with IBM Watson®.