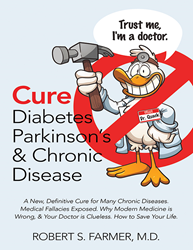 BALTIMORE (PRWEB) December 12, 2017
Dr. Robert S. Farmer demonstrates that many common, chronic diseases such as obesity and diabetes are usually not genetic and are only rarely viral. Most commonly, they are the result of parasitic infections that virtually all first-world doctors refuse to acknowledge properly, due to prejudices and outdated, magical thinking. Dr. Farmer addresses this in his book "Cure Diabetes, Parkinson's & Chronic Disease: A New, Definitive Cure for Many Chronic Diseases. Medical Fallacies Exposed. Why Modern Medicine is Wrong, & Your Doctor is Clueless. How to Save Your Life."
Based on the discoveries made by several Nobel Prize winners along with logic and experimentation, Dr. Farmer shows how modern medicine often makes chronic diseases worse by prescribing drugs that inhibit the immune system, falsely labeling these diseases as autoimmune, and shortening patients' lives.
"I want to show that many 'incurable' diseases are quite curable, and that every person on earth has the causative parasites and the potential to develop the many chronic diseases that are so common in America today—such as arthritis, allergies, ALS, multiple sclerosis and hypertension—many of which are falsely claimed to be genetic, autoimmune, or just age-related decline," said Dr. Farmer.
The book uses extensive material that combines historical references with current standard research-based medical knowledge to understand both the current state of medicine and this new uniquely effective, definitive approach to treating and curing, rather than just 'managing' chronic diseases.
"Cure Diabetes, Parkinson's & Chronic Disease: A New, Definitive Cure for Many Chronic Diseases. Medical Fallacies Exposed. Why Modern Medicine is Wrong, & Your Doctor is Clueless. How to Save Your Life"
By Robert S. Farmer M.D.
ISBN: 9781483474762 (softcover); 9781483474755 (eBook)
Available at the Lulu Publishing Online Bookstore, Amazon, and Barnes & Noble
About the author
One of the reasons Robert S. Farmer M.D went to medical school was to solve his own medical problems. After years of research, he discovered that basically everyone has a slightly different version of the same disease, caused by the same or very similar mechanisms, with only slight variations among them. To learn more and order a copy, click here.
###
Review Copies & Interview Requests:
LAVIDGE – Phoenix
Bryan Beach
480-306-6554
bbeach(at)lavidge(dot)com
General Inquiries:
LAVIDGE – Phoenix
Kalin Thomas
480-648-7560
kthomas(at)lavidge(dot)com