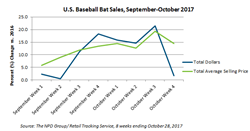 PORT WASHINGTON, N.Y. (PRWEB) December 12, 2017
Baseball/softball bat sales in the U.S. were down in the 12 months ending October 2017,* but experienced a turnaround in the last two months to coincide with the updated USA Baseball Bat (USABat) guidelines, according to retail sales data from global information company The NPD Group. Looking at the eight weeks since new USABat approved products began reaching store shelves in September, dollar sales for the category have grown by 11 percent, with the growth being driven by a 24 percent increase in average selling price.**
USA Baseball, the national governing body for the sport in the U.S., announced in 2015 the adoption of a new method for measuring bat performance in the testing of youth bats, to establish a wood-like standard, giving manufacturers two years to develop and go to market with bats that abide by the new regulations. The new standard goes into effect on January 1, 2018.
"The new guidelines will certainly provide a boost to the baseball equipment market, but aside from being a sales generator, this is a strategic opportunity for manufacturers to breathe new life into the category," said Matt Powell, vice president and sports industry analyst, The NPD Group. "What some manufacturers have done is taken this as an opportunity to refresh their product lineup by utilizing the latest technology and engineering methods. With over two million youth players now in the market for a new bat, this is a chance for brands to hold onto their fan base and/or win over new consumers."
On a weekly basis, dollar sales from September through October in the last two years were the highest during the first week of September. Sales growth in 2017 over the previous year was driven by the fourth week of September and third week of October. In terms of brands, Easton, Louisville Slugger, and Rawlings are the top players in the baseball/softball bat space, and also have the most models listed on the newly approved bat list.
Despite the fact that both bat and overall baseball/softball equipment sales have declined during the full 12-month period over the last two years,*** the Sports & Fitness Industry Association (SFIA) reported an increase in participation for youth baseball and softball in 2016, and found these sports to have more participants than any team sport in the U.S. "This growth in participation is reason for both the baseball community and equipment manufacturers to be optimistic, but what they must focus heavily on is retention. Brands and manufacturers can play a key role in this through their marketing, by creatively targeting and leveraging the core values of younger consumers to keep them in the game," said Powell.
*Source: The NPD Group/ Retail Tracking Service, 12 months ending October 2017
**Source: The NPD Group/ Retail Tracking Service, 8 weeks ending October 28, 2017
*** Source: The NPD Group/ Retail Tracking Service, 12 months ending October 2015-2017
NPD's Retail Tracking Service provides the most comprehensive view of the U.S. team sports equipment market, covering the major categories of basketball, football, baseball, softball, soccer, hockey and field hockey, racquet sports, golf, and lacrosse. The data spans retail sales across the major consumer channels, including athletic specialty, sporting goods, national chains, mass merchants, and e-commerce.
About The NPD Group, Inc.
NPD is the leading global provider of market information and business solutions covering brick-and-mortar, e-commerce, and emerging channels in more than 20 industries. We combine our unique data assets with analytic solutions to help our clients measure performance, predict trends, and improve results, advising them to help drive successful growth. Practice areas include apparel, appliances, automotive, beauty, books, consumer electronics, e-commerce, entertainment, fashion accessories, food consumption, foodservice, footwear, home, juvenile products, mobile, office supplies, retail, sports, technology, toys, travel retail, games, and watches / jewelry. For more information, visit npd.com and npdgroupblog.com. Follow us on Twitter: @npd_sports