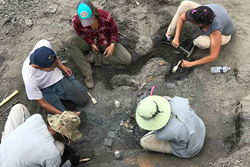 We aim to identify the underlying causes of these barriers and train a new cohort of field scientists to address them head on.
RAPID CITY, S.D. (PRWEB) December 13, 2017
Darrin Pagnac, Ph.D., an associate professor in the Geology and Geological Engineering Department at the South Dakota School of Mines & Technology is the principle investigator of a multi-institution team receiving a National Science Foundation (NSF) award of $400,000 that aims to boost diversity in the geosciences.
NSF officials point out that the geosciences lag other science, technology, engineering, and mathematics (STEM) disciplines in engagement, recruitment and retention of traditionally underrepresented and underserved minorities. The NSF's GEO Opportunities for Leadership in Diversity (GOLD) program seeks to "cultivate a new generation of leaders within the geosciences research and education communities who have the passion, the knowledge, the skills, and the tools to catalyze high-impact efforts to broaden participation of traditionally underrepresented minorities in the geosciences education pipeline and workforce."
"Although inherently transformative and inspirational in nature, field work in geoscience is accompanied by many barriers to inclusion. It can be physically demanding, expensive, often occurs in remote locations, and reports of sexual harassment are disturbingly common. Women, individuals with physical disabilities, those with economic disadvantages, or others from underrepresented groups can find these issues intimidating, even impossible, to overcome. We aim to identify the underlying causes of these barriers and train a new cohort of field scientists to address them head on," says Pagnac
The project began with social scientists observing field geologists at work during the summer of 2017. Their findings have provided the foundation for intensive training workshops that will empower leaders in geoscience fields to find innovative solutions and new ways to increase diversity. Pagnac's project is called "FIELD" (Fieldwork Inspiring Expanded Leadership for Diversity). It aims to make field activity in the geosciences more accessible and inclusive by equipping field leaders with perspectives and skills to recognize and reduce common barriers to diversity.
The project team will convene an immersive leadership development institute for field scientists to engage in practical skills training (e.g., bystander intervention, managing cross-cultural relationships). The team will also collaboratively develop new approaches that can be implemented in their own field experiences. In the long term, this project can reduce the exclusionary nature of field culture within the geosciences.
The project at SD Mines is one of five funded in a solicitation through the National Science Foundation (NSF). The official FIELD workshop takes place in October of 2018.