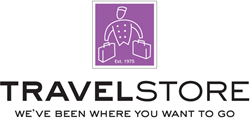 The Pocket Travel Consultant takes the worry out of traveling. Knowing that your travel professional is always beside you and in the palm of your hand.
LOS ANGELES (PRWEB) December 13, 2017
California-based TravelStore, an award-winning travel agency and leader in luxury and cruise vacations, has just released a new video highlighting the key features of their highly popular mobile travel application, the Pocket Travel Consultant.
The Pocket Travel Consultant, offered complimentary to all TravelStore clients, is an innovative mobile application which organizes every detail of a client's trip in the palm of their hand - accessible anytime, from anywhere. The application integrates custom itineraries, travel destination guides, and the powerful features of the Axus Travel App into one program. This includes descriptions of the best restaurants, local attractions, exciting things to do, copies of important documents and even in-app messaging connecting clients directly to their TravelStore Consultant and traveling companions.
Key benefits of the free travel app make a client's vacation hassle free from initial planning stages and through out the trip. The application includes integrated travel plans consolidating all confirmations and documentation as well as detailed destination guides, real-time notifications about air reservations including schedule changes, security issues or weather updates, and in-app messaging with both their TravelStore consultant as well as travel companions.
The app is customizable by the client should they wish to add items to their trip such as restaurant reservations or self-booked activities. For enhanced convenience, once the itinerary is downloaded within the app, most of the information is accessible without the need for a Wi-Fi connection.
TravelStore specializes in upscale, custom itineraries to destinations around the world with a focus on providing the special, unforgettable experiences that make vacations unique and extraordinary. The Pocket Travel Consultant application strengthens communication between TravelStore's travel experts and their clients not only during planning, but throughout the client's entire trip to ensure a very personal and hassle-free vacation.
About TravelStore
Established in 1975, employee-owned TravelStore is one of the nation's top travel agencies. Headquartered in Los Angeles with several branch locations throughout California, TravelStore is a member of Signature Travel Network and specializes in luxury cruises, tours and custom vacation packages. For more information visit travelstore.com or call 888-761-7447.