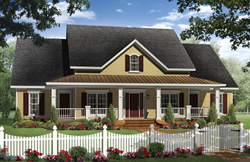 Affordable VR technology now makes it possible for consumers to virtually walk through their home while still only a set of house plans.
SCARSDALE, N.Y. (PRWEB) December 13, 2017
The Plan Collection (TPC), a leading resource for house plans and home design ideas, announces its new series of virtual reality (VR) videos for house plans that can be viewed by consumers using relatively inexpensive VR headsets. Advances in VR technology along with significant drops in retail prices for headsets have only recently enabled the virtual reality experience to go mainstream. Applying this technology to house plans, prospective home builders and owners are now able to virtually walk through the interior of a home rather than rely only on blueprints.
"Visualizing spatially the house floor plans available on The Plan Collection has always been a challenge for many of our clients," said Brian Toolan, chief executive of The Plan Collection. "While expensive physical models could certainly help in the past, VR headsets and videos are a far more affordable option. We can also share these videos with almost anyone located anywhere with a VR headset."
The first in the series of TPC's house plan VR videos have been posted on its YouTube channel under the VR play lists. Two playlists have been created to optimize the experience by headset type: one set of videos is side-by-side, while the other set is top-and-bottom.
By clicking on the desired VR video on a smartphone and then inserting the phone into a relatively inexpensive VR headset, the user is able to experience a virtual walk-through around the exterior and – more importantly – the interior of the home, moving from room to room. While traditional videos and 360-degree photos are helpful, both are two dimensional and don't truly immerse the user into a virtual experience as VR does.
TPC's house plan VR videos are available in both "side by side" and "top and bottom" format. They can be found at YouTube playlist for side by side or YouTube playlist for top and bottom.
Benefits of Virtual Reality Technology Today
The benefits of VR videos and headsets in the house plans market include:

Visualize and walk through the interior of a home from room to room before buying plans.
Get a 3D walk-through experience without breaking the bank – decent VR headsets start at as low as $20 this holiday season.
Use the VR headset for plenty of other virtual experiences besides house plan walk-throughs on TPC – from gaming to adventure tours available from many outlets; VR is now ideal for all ages.
As the series is just developing, TPC has begun with its most popular plans. Based upon demand, TPC will continue to expand its offerings of "virtual walking tours."
About The Plan Collection
The Plan Collection is driven by the simple idea that great house design should be affordable and readily accessible to everyone. The company provides homeowners, prospective homeowners, and builders with more than 20,000 house plans selected from the nation's leading designers and architects along with tens of thousands of instructional images and inspirational photos. Their team is dedicated to offering customers a better, more convenient and more valuable home-building experience. More information on the company can be found at https://www.theplancollection.com/about/about-us.