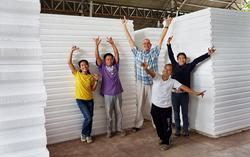 In the Philippines, many people with severe hearing difficulties are regarded as incompetent or even cursed. We want to change that.
(PRWEB) December 13, 2017
With earthquakes, typhoons, voracious termites and torrential rains, the Philippine islands can be a challenging place for construction projects. But the International Deaf Education Association (IDEA), a non-profit focused on empowering and educating people with hearing disabilities on the islands of Bohol and Leyte, might just have the solution: SIP Panels.
SIP panels, or Structural Insulating Panels, are a completely new technology to the Philippines. By sandwiching a Styrofoam core between fiber concrete sheets to form extremely strong, lightweight panels, IDEA's primarily deaf workforce is making better homes quickly and affordably for lower-income families. Unlike standard wood panels, these new panels are light, sturdy and naturally resistant to a host of challenges frequently seen in the Philippines.
"This new building process is the wave of the future for the Philippines," says Dennis Drake, founder and president of IDEA International. "We've started this project on the island of Bohol, but as people see how efficient these buildings are I could see it being adopted on the rest of the islands very quickly."
And construction isn't the only field IDEA is working to revolutionize. By employing a primarily deaf workforce of both men and women, IDEA is also empowering a long-neglected community.
"Here in the Philippines," says Drake, "many people with severe hearing difficulties are regarded as incompetent or even cursed. Women especially have a lot of trouble finding work, and many children never receive any sort of education. We want to change that."
Founded over 30 years ago, IDEA was one of the first organizations to offer a basic elementary education and sign language skills to hearing-disabled children from low-income families. Today, IDEA partners with the Philippine Department of Education (DepEd) to provide dorms, classrooms, furniture, books, teachers' salaries, and vocational training and opportunities for sponsored deaf students.
Due to limited government funding, IDEA relies on donations from supporters across the world to sponsor hearing-impaired children as they learn and grow.
"A big challenge in empowering our students is providing them with a safe place to learn," says Drake. "These new SIP panels give us an innovative new way to show God's love for the Philippines and provide better homes, schooling and community for hundreds. And by inviting people to help sponsor their educations, we can give safe housing, hot meals, and hope for the future to children who have never had any of those things."
The International Deaf Education Association (IDEA) is a 501(c)(3) non-profit that relies on generous donations and support from people just like you. To find out how you can support their mission and sponsor a child with hearing disabilities, visit https://www.ideadeaf.org/.