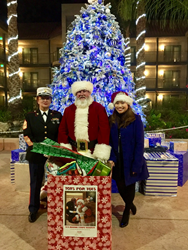 "I'm thankful to the Embassy Suites staff for making what I envisioned, happened. What better place than this amazing garden to light up a Christmas tree? It adds to the picturesque beauty around the pond. In just a couple of hours, we collected almost two boxes full of donations."
LOMPOC, Calif. (PRWEB) December 13, 2017
Upon arrival, guests were given a tea light candle and came together to get in the holiday spirit with a warm cup of hot chocolate, fresh-baked cookies and candy canes. A local choir delighted guests with Christmas carols and a whole lot of Christmas cheer. A bright spotlight was on Santa Claus as he took the glass elevator down to the ground floor, while his beautifully decorated sleigh was parked in front of the hotel. A countdown was held before the 18-foot fresh-cut Noble Fir Christmas Tree adorned with blue, silver and white was lit. The celebration featured festive decorations, twinkling lights and even snow.
"We planned and prepared for this event in just seven days," Golda Mae Escalante, General Manager, said. "I'm thankful to the Embassy Suites staff for making what I envisioned, happened. What better place than this amazing garden to light up a Christmas tree? It adds to the picturesque beauty around the pond. In just a couple of hours, we collected almost two boxes full of donations."
The celebration was graced by the US Marine Corps as the Embassy Suites by Hilton Lompoc participated in the annual Toys for Tots drive for the ninth year in a row. The event was free but guests were encouraged to bring an unwrapped toy to donate to Toys for Tots.
"WCG Hotels is helping Toys for Tots deliver the magic of Christmas to less fortunate children who otherwise might have been forgotten." said retired Colonel Ted Silvester, Vice President of the Marine Toys for Tots Foundation. "With their generous support, we will be able to fulfill the Christmas holiday dreams of many less fortunate children, who otherwise might have been forgotten."
The Embassy Suites by Hilton Lompoc hotel will be collecting toys until December 15th. The hotel encourages everyone who is able to come in and donate an unwrapped, new toy. The tree will light up at 5:30pm each evening throughout the holiday season.
###
ABOUT WINDSOR CAPITAL GROUP
Windsor Capital Group is a hotel management and development company that owns and operates full-service, focused, upscale branded hotels throughout the United States, with the Embassy Suites and Marriott flags. It also runs Windsor Management Services, a top-performing hotel management company that customizes hotel management services to meet the needs of the properties.
Windsor Management Services is an award winning, comprehensive hospitality management organization that operates full-service, upscale hotel properties throughout the United States. With more than 30 years of experience, Windsor Management Services is known for unmatched results for its owners and unparalleled service for its guests delivered with a personal connection.
For more information visit http://www.WindsorManagementServices.com or http://www.WCGHotels.com. Contact is Paul Francisco, Chief Operating Officer at 310-566-1100.