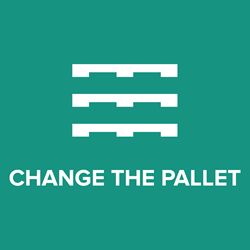 The CARB report demonstrates empirically how California can save tens of millions of dollars each year, and reduce truck traffic by 10-20%.
PORTLAND, Ore. (PRWEB) December 19, 2017
Change the Pallet, an Oregon-based nonprofit, traveled to Sacramento to present to senior California's Air Resources Board (CARB) and California Department of Transportation officials earlier this year. The comprehensive case made to CARB is now being made available to the public.
The CARB report demonstrates empirically how California can save tens of millions of dollars each year, and reduce truck traffic by 10-20%. The model, which has been proven at global scale by IKEA over six years, entails "green" procurement and shipping policies for suppliers.
Specifically, California can (and should) require its vendors to ship to state facilities and universities on lightweight, recyclable corrugated pallets instead of wood. This can be achieved through a simple change to bid specifications and/or shipping directives for approved vendors. Deeper financial savings can be attained by purchasing corrugated pallets in volume and providing the pallets to vendors for use in state shipments. IKEA employs this provisioning approach for 34 million corrugated pallets each year, which are then distributed to approved suppliers. This more aggressive approach would drive down the per-unit cost significantly and stimulate the corrugated pallet market, thereby creating high-paying California manufacturing jobs.
Whether California chooses to require corrugated pallets, or provision them, changing the pallet for shipments to state facilities and university campuses will eliminate hauling and landfilling fees, reduce truck traffic and largely eliminate wood pallet-related injuries to public employees.
This should be good news for California's policymakers; the state faces significant challenges to achieve its pledge to reduce greenhouse gas emissions to 40% below 1990 levels by 2030. According to an LA Times article by Liam Dillon, even if the state is successful in its plan to put millions of electric cars on the road, revolutionize its dairy industry, and generate half of all power from solar panels and other renewable sources, "the amount of pollution emitted from cars and trucks will still be too high to meet the state's [2030] environmental targets. The only way to make up the difference is for people to drive less." Mr. Dillon reports that to achieve the targets, California needs to significantly increase population density in cities throughout the state.
"If telling its suppliers to change the shipping pallet they use sounds like a tall order," says Executive Director of Change the Pallet Adam Pener, "we're dubious that California will be able to build new, closely packed housing -- in neighborhoods that have already been developed statewide -- with the intent of fundamentally changing people's driving habits. That's far more ambitious than changing the pallet, but we certainly applaud all efforts to meet the 2030 reduction targets."
Joining Change the Pallet in submitting the CARB report was global sustainability leader Roger Ballentine. Mr. Ballentine served President Clinton as Chairman of the White House Climate Change Task Force and Deputy Assistant to the President for Environmental Initiatives. He literally wrote and executed many of the Federal Government's "green" procurement policies.
Change the Pallet is a project of The Forward Edge Initiative, an Oregon-based nonprofit. They educate and advocate for a national shift from wood to corrugated pallets, with the goal of protecting American workers, eliminating shipping pounds, reducing carbon emissions massively, and saving consumers and taxpayers billions of dollars. Change the Pallet is honored to be recognized as a "Knowledgeable Partner" of the prestigious Connect4Climate, and was recently featured in an ICLEI - Local Governments for Sustainability article.