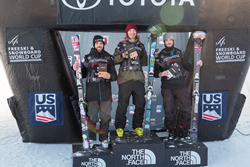 For me it's a huge honor to be a part of pipe skiing right now. The level is so high. There are so many guys who can win contests from so many different places in the world - David Wise
COPPER MOUNTAIN, Colo. (PRWEB) December 12, 2017
Monster Energy congratulates David Wise (Reno, NV) on his victory in men's Ski Halfpipe at the Toyota U.S. Grand Prix taking him one step closer to defending his halfpipe skiing Olympic Gold from 2014. Teammate Devin Logan takes second in women's Ski Halfpipe. The ride to PyeongChang for both Wise and Logan is that much closer to making their respective Olympic teams by landing podium spots at this event.
The U.S. Grand Prix at Copper serves as the second 2018 Olympic qualifier. Up to three skiers who earn two top-three finishes in the five qualifiers will qualify for the PyeongChang Games. Wise, 27, nailed his first run making a statement to the nine other competitors who were vying for the top spot on Team USA.
Wise, the only American to finish in the top four with a score of 92.80, was able to perfect a new trick and feels confident leading into the qualifier competition season with his best competition he's ever seen.
"My goal for this contest starting off was to just land some runs. I've been working on the switch right dub for a long time now – and I wanted to come out with that exclamation mark and land it," said Wise.
"For me it's a huge honor to be a part of pipe skiing right now," said Wise. "The level is so high. There are so many guys who can win contests from so many different places in the world. And as a competitor, as a professional skier, that's what you want."
Wise's Monster Energy teammate Gus Kenworthy, who is also vying for a spot on the Olympic team, landed in 17th place and will also compete for a Ski Slopestyle spot.
Logan, who earned second with a score of 79.60, is one of the most decorated freeskiers out there, and is also a double threat in Halfpipe and Slopestyle hoping to defend her 2014 Olympic slopestyle silver medal.
"It feels great," said Logan on her second-place finish. "I mean not having my best result at Mammoth last year, I definitely needed some redemption to kind of ease the stress on me and I was happy to put down some runs that I'm happy with and can just build up from there."
Download photos for editorial use:
Stay tuned for the next three ski halfpipe qualifiers. Up next is the Dew Tour in Breckenridge, CO on December 16.
Find more information on http://www.monsterenergy.com and make sure to follow Monster Energy's Facebook, Instagram & Twitter for exclusive updates.
About Monster Energy
Based in Corona, California, Monster Energy is the leading marketer and distributor of energy drinks and alternative beverages. Refusing to acknowledge the traditional, Monster Energy supports the scene and sport. Whether motocross, off-road, NASCAR, MMA, BMX, surf, snowboard, ski, skateboard, or the rock and roll lifestyle, Monster Energy is a brand that believes in authenticity and the core of what its sports, athletes and musicians represent. More than a drink, it's the way of life lived by athletes, sports, bands, believers and fans. See more about Monster Energy including all of its drinks at http://www.monsterenergy.com.