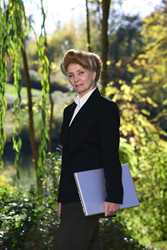 GRANTS PASS, Ore. (PRWEB) December 12, 2017
Date aired: October 23, 2017
Guest: L. DeWayne Cecil, Ph.D.
Internationally respected water researcher and educator Sharon Kleyne is an advocate for more sophisticated and widespread education regarding the process of body water evaporation and the crisis facing earth's groundwater. Focusing on the groundwater crisis, Kleyne was delighted to welcome a longtime colleague and collaborator, L. DeWayne Cecil, Ph.D. on her radio program, the nationally syndicated The Sharon Kleyne Hour Power of Water, Global Climate Change and Your Health on VoiceAmerica sponsored by Nature's Tears® EyeMist®.
Cecil, advisor to NASA, NOAA and Global Science and Technology, Inc. Climate Data Record Program, is a hydrologist who has worked with the UN in Geneva to monitor the world's climate, has declared that "Nothing is more important to global peace, human health and environment than food and water security." Cecil also believes that "The soil on the surface is telling you the story of water."
Kleyne, also the founder of Bio-Logic Aqua® Research Water Life Science®, explained the importance of water to the body and its organs. "If you weigh 176 pounds," said Kleyne, "your body contains the equivalent of 18 standard bottles of water." Kleyne asked Dr. Cecil about the role of agriculture in the current water crisis. Cecil described two processes that are serious threats to both soil and water.
The first, salting of the earth, is the process in which repeated flushing of fields creates salt and mineral build-ups that retard crop growth. The second, mining the groundwater, is the process by which we pull out more water from the aquifer than we're putting back in. Cecil gave an example of the consequences of this process by referring to nature. In the natural world, it takes 330 years to replenish an aquifer at its recharge level. In other words, if we stopped mining the groundwater in a field and did nothing else, it would take nature 330 years to replace that water. We are still taking out more groundwater than we're replenishing, meaning that we run the risk of completely draining essential aquifers all over the world.
Cecil shared additional disturbing statistics. Around 1900, he pointed out, 2 percent of the world's population experienced chronic water shortages. By 1960, the figure had increased to 9 percent. By 1995, over a third of the world's population experienced chronic water shortages. Kleyne and Cecil agreed that much of the world's population suffers often from dehydration, which leads to stress, diseases, addiction and can result in death.
The colleagues also agreed that education about water technology, water use and dehydration is essential to protecting water supplies and improving world health. "If you show Americans success stories," said Cecil, "they'll pay more attention to new technologies." Kleyne would like people to remember that earth itself is a living organism, a living ecosystem that is self-regulating yet requires us to make wise choices in water use and management.
We hope you found this article useful and helpful regarding water use and health. If you would like to contact us with questions or your own insights and stories about water use and new water technology, you can do so at Sharon(at)biologicaquaresearch(dot)com 800-367-6478 ~ Fax 541-474-2123 http://www.naturestears.com or on Twitter at @sharonkleynehr We would love to hear from you. You can also listen to this radio program with guest L. DeWayne Cecil, Ph.D. at https://www.voiceamerica.com/episode/79119/the-sharon-kleyne-hour-monday-july-14-2014