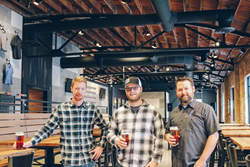 Our original location on the north side of Holland welcomed thousands of neighbors and visitors in our first years of operation, and being able to expand downtown to as a destination that also creates jobs and an awesome space to gather with friends and families is a dream come true.
HOLLAND, Mich. (PRWEB) December 14, 2017
Big Lake Brewing (BLB), announced today the opening of their 7,000 square-foot, $1.25 million-dollar downtown brewpub and restaurant on Wednesday, Dec. 20 at 11 a.m. The renovated location is at 13 W 7th St., Holland, Mich. and was formerly home to several restaurants, most recently Serafina's Bar and Grill. The new brewpub will replace the current location 977 Butternut Dr., Ste. 4, that will no longer be occupied by BLB.
Patrons of the new location will experience the same great craft beers, such as Ryecoe IPA, Leroy Brown and Darkstar stout while enjoying dishes like the DIY Sammy: a sandwich featuring Leroy Brown smoked meat (chicken or pork), smoked cheddar cheese, caramelized onions, fresh arugula all served on a fresh pretzel bun. Is your mouth watering yet?
"This building is 90 years old this year, and we could not be more excited to bring it back to life with our amazing customers," shares Nic Winsemius, Owner and Director of Production. "Our original location on the north side of Holland welcomed thousands of neighbors and visitors in our first years of operation, and being able to expand downtown to as a destination that also creates jobs and an awesome space to gather with friends and families is a dream come true."
The 160-seat brewpub and restaurant will be open Monday to Wednesday, 11 a.m. to 11 p.m.; Thursday to Saturday, 11 a.m. to midnight and Sunday, 11 a.m. to 9 p.m. The 7,000 square-foot space was designed by Big Lake Brewing and Forged by Design, a Holland-based design firm specializing in timber and steel, and features steel, wood and handcrafted tables from salvaged red and white oak from a house in Maryland built in the 1840s.
Other features include:

Weekly live music from local bands on Thursday and Saturday.
A renovated, spacious patio with gas fire pits and seating for 60.
35-foot-long bar with 20 seats with TVs mounted above.
Banquet tables that were hand planed and hand sanded with wood from an 80+ year old oak tree that overlooked Lake Macatawa.
Seating, signage, merchandise wall, draft board, hand rails and fencing were designed and fabricated in house.
Big Lake Brewing was founded by three engineers: Travis Prueter, Nicholas Winsemius and Gregory MacKeller more than four years ago. Since then, the brewery has experienced significant growth and has expanded distribution to state-wide in Michigan and the Cleveland area. Big Lake is committed to producing high-caliber traditional beers, including:
Ryecoe IPA, a rye IPA is brewed with 25a% rye malt and complemented with a huge dose of simcoe hops.
Darkstar, a full-bodied stout brewed using both Kona and Sumatra coffee and then aged on cacao nibs.
Citra Session, a light beer made with malted wheat and Citra Hops.
Leroy Brow, an American Brown ale featuring four caramel malts.
Ramarillo, a rye using Amarillo hops with flowery citrus notes.
During the planning stages of the project, a significant amount of time was spent on interior design and the menu. Big Lake hired Luke Dekker as executive chef, formerly of Sandy Point Beach House, who set about creating a menu as unique as the brewery's beer. Each dish stays true to the flavor combinations of Big Lake's beer. The menu includes a variety of dishes, such as:
Starter: The Ryecoe Cheese & Pretzels is bubbly, savory Ryecoe beer cheese served with handmade soft pretzels for dipping.
Salad: The Reconstructed Caprese includes think slices of fresh roasted tomato and smoked mozzarella stacked high and drizzled with a Stoner IPA balsamic reduction.
Small Plate: The Beer Mac N Cheese is a penne pasta tossed in a blanket of Ryecoe beer cheese, topped with bacon and pretzel breadcrumbs. Add any Leroy Brown smoked meat for an added treat.
Handheld: The Steak Burger is a half-pound specialty blend patty, grilled to order and topped with smoked cheddar, lettuce, tomato and caramelized onions on a fresh pretzel bun. With choice of side.
Side: The Tots are loaded up with Leroy Brown smoked chicken or pork, bacon, cheese, green onions and seasoned sour cream.
Pizza: The wood-fired Rise and Shine has a Ryecoe beer sauce, sautéed peppers, onions, and mushrooms, bacon, crispy tots, smoked cheddar cheese and two eggs sunny-side up.
Dessert: The Fruit Bake is a delicious crumble or pie filled with the seasons best fruit, sweetened and baked till perfectly brown.
"For us, it really is all about the beer, but when we expanded into this new location, we knew the key to our success was having the right chef and the right menu," said Travis Prueter, Owner and Director of Retail Operations. "Luke brings a wealth of experience within the food and beverage industry and really understood the overall vision. From wood-fired pizzas to tacos, sandwiches, mac n cheese and salads; each dish is amazing and we can't wait for you to try it."
When Big Lake Brewing opened its original location, the brewery operated a three-barrel system which they grew to a seven-barrel system. The brewery is now packaging product out of their new 4,300 square-foot facility located at 164 and 166 E. 19th St. in Holland, with a 15-barrel system.
"Success for us isn't continual growth, although that part has been fun," explains Winsemius. "Success is making great beer that people enjoy. Traditional styles that can be a go-to for our customers and guests is ultimately what we want to bring to the market."
About Big Lake Brewing:
Located in Holland, Michigan, Big Lake Brewing encourages everyone to "Dive In" to great beer. Stay connected on Facebook by liking "Big Lake Brewing" and visit them online for an up-to-date list of beer on tap.