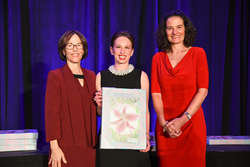 As a reproductive endocrinologist, I feel privileged that my job is to help people achieve their dreams of parenthood.
ROCKVILLE, Md. (PRWEB) December 13, 2017
Shady Grove Fertility (SGF) board certified reproductive endocrinologist, Lauren Roth, M.D., has been named by Maryland's The Daily Record as a 2017 Leading Women Honoree. The Daily Record's Leading Women awards honor 50 women who are 40 years of age or younger for the accomplishments they have made so far in their careers. A panel of previous Top 100 Women and Leading Women winners selected the honorees based on their professional experience, community involvement, and commitment to inspiring change.
"As a reproductive endocrinologist, I feel privileged that my job is to help people achieve their dreams of parenthood. I am deeply committed to my patients and providing them with the highest quality fertility care," says Lauren Roth, M.D., of Shady Grove Fertility's Frederick, MD and Harrisburg, PA offices.
Dr. Roth earned her medical degree from the University of Maryland, Baltimore. She continued on to the University of Colorado, Denver where she completed her residency in Obstetrics and Gynecology and a 3 year fellowship in Reproductive Endocrinology and Infertility. She then served as an Assistant Professor at University of Colorado for 2 years before moving back to Maryland.
During her residency, Dr. Roth received several teaching awards and served as chief resident. During her fellowship and time as faculty at the University of Colorado, she presented research at multiple national meetings and received three national research awards. She has published research on a range of fertility topics including polycystic ovary syndrome (PCOS) and the impact of weight on reproductive hormones.
Since joining Shady Grove Fertility in 2015, Dr. Roth has played an active role in educating the community about infertility by hosting dozens of patient education events including in-person seminars and online webinars. In addition, she has been involved in outreach to the referring physician community in an effort to help educate and spread awareness about fertility options to overcome infertility.
"This year's Leading Women honorees are making outstanding contributions to their fields. They are active in their communities and are committed to inspiring change," said Suzanne Fischer-Huettner, publisher of The Daily Record. "They are Maryland's next generation of women leaders, and The Daily Record is honored to recognize their achievements."
Remarked one recent patient of Dr. Roth's, "Upon meeting with Dr. Roth, we could tell she was well educated and invested in our specific journey. Even through some bad breaks, she was kind, patient, and let me be in the moment I needed. She was reassuring when it got tough and shared in our joy when we had success! Infertility is such an intimate topic; we really felt cared for under Dr. Roth's wing."
Patients can schedule an appointment with Lauren Roth, M.D., at Shady Grove Fertility's Frederick, MD or Harrisburg, PA offices by calling the Shady Grove Fertility New Patient Center at 888-761-1967 or completing a brief online form.
About Shady Grove Fertility (SGF)
SGF is a leading fertility and IVF center of excellence with 50,000 babies born and counting. With 41 physicians and 28 locations throughout MD, PA, VA, GA, and D.C., we offer patients individualized care, accept most insurance plans, and make treatment affordable through innovative financial options, including treatment guarantees. More physicians refer their patients to SGF than any other center. Call 1-888-761-1967 or visit ShadyGroveFertility.com.