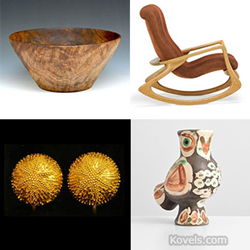 CLEVELAND (PRWEB) December 13, 2017
The staff members at Kovels.com study hundreds of books and auction catalogs filled with all types of vintage and antique treasures. As much as they love reporting the stories of items bought by others, they are often attracted to things they wish they could snag for themselves. The Kovels' staff was asked, "What (in a perfect world or if you just won the lottery!) would be on your wish list?" Here Kovels' staff picks from 2017 auctions that they are excited about:
Terry Kovel collects many things and loves political memorabilia of all types, from banners, bandannas and buttons to paper, pins, and posters. Terry would love to add a rare and historic "warlog" to her collection. It contains a 12-lb. cannon ball and grapeshot from Snodgrass Hill, site of the Civil War Battle of Chickamauga. The pricey historic item was offered at a Julia auction, estimated at $20,000 to $30,000, but the lot was passed. Maybe there will be another chance. "I've been collecting things like a burl basket, a root carving, or a buffalo walking stick made from a sapling that was tied into a knot when it was young."
Kim Kovel collects many things Midcentury Modern and later, and she was drawn to 18-karat gold earrings by jewelry designer and goldsmith John Paul Miller (1918-2013). "I like these earrings because they are starfish and made by a local Cleveland artist."
Gay, the "mother of Kovels' annual price guide," travels a lot and always hunts for Christmas ornaments that are reminders of many places in the U.S., Europe, Africa and Asia, as well as family events. "I have always wanted a carved wooden Christmas pyramid from the Erzgebirge region of Germany. One with 4 tiers. I had a smaller one years ago that was damaged when I failed to notice it had stopped turning and the candles were burning the wood." A few vintage 4-tier pyramids have sold in German auctions for $800 to $1,000. Newer ones are a bit less expensive, $400 and up.
Janet is Kovels' graphic designer and would like to own an original Apple-1 computer, considered to be one of the most valuable and collectible computers. "I love using a Mac and the whole Apple story. It has been great to see the personal computer movement evolve in my lifetime." Steve Jobs and Steve Wozniak built the computers by hand in Jobs' garage in Los Altos, California. Two hundred models were sold between July 1976 and September 1977. Apple-1 didn't come with a case or housing, had a not-whopping 4K memory, and required a separate keyboard and television to work. Price in 1976: $666.66, equivalent to about $2,806 today. Janet especially likes the Apple-1 model in a homemade wooden case. Since it was discontinued in 1977, Apple-1 computers have sold from tens of thousands to hundreds of thousands of dollars.
Hamsy, Kovels' marketing expert, loves everything midcentury modern and Scandinavian in design – furniture, art, ceramics, etc. "I'm in love with cobalt blue dining chairs designed by Eva Koppel! I love their modern and distinctive design, as well as their bold color." The chairs are upholstered beech and made in Denmark. The set of six recently sold for $6,875 at Wright in Chicago.
Danielle, editor of Kovels On Antiques & Collectibles newsletter, says, "When I was pregnant with my first child, I interviewed furniture designer Vladimir Kagan for an article. At the end of our conversation he asked about the baby. I joked, that I could really use one of his beautiful rockers." "Tell me when you see them come up at auction, they rarely do," Kagan said. He passed away last year. I noticed a Kagan 1970s rocker in the fall after it sold at Rago. The wooden frame has a Scandinavian influence but with a modern biomorphic feel. It's a functional sculpture. "I've seen these rocking chairs sell for over $30,000, so this was a bargain at $6,250. If I bought it, I would have it reupholstered in a midcentury modern fabric, perhaps something by Alexander Girard or Boris Kroll. I think Kagan would have liked that."
Lauren is the graphic designer of Kovels' newsletter and chose cast iron banks that will be auctioned soon. The lot includes two banks, an owl on a stump and a pug dog, that she thinks "are cute and would fit well on book shelves." Auction estimate for the lot: $150 to $300.
Cherrie, Kovels' copy editor, has her sights set on a stylized owl vase designed by Pablo Picasso. "I like nature and wild life. This vase reminds me of the owls we have in our backyard." The 12-inch figural vase was made by Madoura Pottery in France and sold for just over $19,000 at a Palm Beach Modern auction.
Tina is everything tech and admin at Kovels. She was drawn to a painting. "I absolutely love the painting, "The Weary Moon," by Edward Robert Hughes (1851-1914). If I could, I'd fill my house with art!" The 8 ½ by 5 ½-inch painting sold at Sotheby's for $193,650.
Liz, one of Kovels' editors, would love to be gifted with a nicely shaped old burl bowl. "It's a natural and rustic way to serve a beautiful salad. And no two bowls are ever alike." A black burl walnut example, 6 by 12 inches and inscribed by Bob Stockdale, a 20th-century woodturner noted for his bowls of exotic woods, sold for $485 in a California auction.
And who wouldn't love to receive the 50th anniversary edition Kovels' Antiques & Collectibles Price Guide! Kovels' 2018 is the best book of prices for average collectors. And one last suggestion: Put a dollar bill in the book, along with a reminder that the bill makes a perfect 6-inch ruler.
Terry Kovel is America's foremost authority on antiques and collectibles. She is the well-known columnist and author of more than 100 books on antiques and collecting. The 2018 / 50th anniversary edition of Kovels' Antiques & Collectibles Price Guide is currently available at Kovelsonlinestore.com and local bookstores. Terry Kovel will discuss antiques and collectibles topics with accredited media. Photographs are available. Contact pr(at)kovels(dot)com.
About Kovels.com
Kovels.com, created by Terry Kovel and her daughter, Kim Kovel, provides collectors and researchers with up-to-date and accurate information on antiques and collectibles. The company was founded in 1953 by Terry Kovel and her late husband, Ralph. Since then, the Kovels have written some of America's most popular books and articles about antiques, including the best-selling annual Kovels' Antiques & Collectibles Price Guide. The website, Kovels.com, online since 1998, offers more than a million free prices, and includes a free weekly email, "Kovels Komments." It gives readers a bird's-eye view of the market through the latest news, auction reports, a Marks Dictionary, readers' questions and answers and much more.
Contact Information:
Liz Lillis
216.752.2252
Pr(at)kovels(dot)com