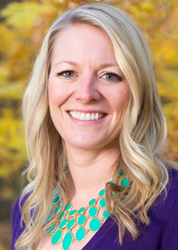 MOUNT HOREB, Wis. (PRWEB) December 13, 2017
Dr. Angela Cotey, experienced dentist in Mount Horeb, WI, recently held the Wisconsin Dental Study Club (WDSC) at Grand Geneva Resort in Lake Geneva, WI, December 7-8, 2017. Acting president of the study club and a lecturer on relevant dentistry topics, Dr. Cotey was pleased to welcome Sheri Kay from SKY Dental Practice Coaching as guest speaker for the event.
Sheri Kay is the owner and chief consultant of SKY Dental Practice Coaching, a published author and gifted speaker, and one of Dental Products Report magazine's 2011 Top 25 Women in Dentistry. During the two-day seminar, Sheri spoke to dental professionals about how to create successful and profitable dental practices through intention and focus. The course covered everything from practicing positivity and hospitality skills to customer service and marketing best practices. A passionate and energetic speaker, Sheri leads her coaching sessions with enthusiasm, helping participants actively think about and discuss ways their office can create an atmosphere of positivity, teamwork, and dedication to their patients.
The WDSC is a non-profit organization for dental professionals that provides high-quality continuing education on industry solutions, with topics ranging from team development to search engine optimization for dentists. The bi-annual meetings provide information and education on latest trends, technologies, and strategies in the dental industry to dentists and team members from across the country. Founded over 75 years ago, the Madison-based WDSC is proud to boast being one of the oldest study clubs in the United States, and routinely gives back to the community by donating to many charities and organizations in addition to awarding scholarships to qualifying dental students.
Dr. Cotey is experienced in modern dentistry using the latest technology and techniques available today. At her practice, Village Smile Care, she routinely sees patients for a variety of dental services, including orthodontics, crowns and bridges, and dental implants. Passionate about helping educate others, Dr. Cotey frequently lectures dental professionals and patients on the industry's latest solutions and technologies, and is an active leader in her community and at the WDSC.
Patients searching for a knowledgeable and skilled dentist in Mount Horeb, WI, can turn to Dr. Cotey for all their oral health needs. Inquiries about new patient appointments or registering for the upcoming study club can be directed toward Village Smile Care by calling 608-433-2102.
About the Doctor
Dr. Angela Cotey is a general dentist offering personalized dental care to patients in Mount Horeb, WI. Dr. Cotey and her entire team take pride in offering the latest advancements in dentistry and dental technology to ensure each patient enjoys a comfortable experience with long-lasting results. Dr. Cotey combines advanced dentistry with a fun and friendly style. She is a member of numerous professional organizations including the American Dental Association, the Wisconsin Dental Association, American Academy of Cosmetic Dentistry, Fellow in the Academy of General Dentistry and current President of the Wisconsin Dental Study Club and Madison Dental Progress Forum. To learn more about Dr. Cotey or the services she offers, please visit her website at http://www.villagesmilecare.com or call 608-433-2102 to schedule an appointment.