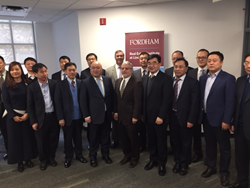 NEW YORK (PRWEB) December 13, 2017
The Fordham Real Estate Institute at Lincoln Center recently hosted 21 Chinese construction executives representing that nation's largest infrastructure and engineering companies for a series of intensive presentations on major projects in the New York area. Both public and private developers afforded the international study group an inside look at what it takes to get complex construction projects accomplished in the United States' largest and densest city.
The cases studied throughout the day included the Transit Hub at the World Trade Center, 11 Times Square, the elevation of the Bayonne Bridge, the East Side Access Project, and the Number Seven Subway extension to Hudson Yards. Over the past two decades New York has seen some of the most intensive development of infrastructure and tall building construction of any global city.
Presenters were among the principal managers responsible for those projects, including:

Anthony T. Pastore, First Vice-President of AECOM/Tishman Construction and Jordan Cruz, Assistant Project Manager at the WTC Transportation Hub
Christopher Mills, Executive Vice President of Plaza Construction, and Jimmy Song of Plaza's Virtual Design and Construction Department
Steven Plate, Chief of Major Capital Projects for the Port Authority of New York and New Jersey
Judith Kunoff and Mark J. Schiffman, Senior Vice Presidents and Project Managers of MTA Capital
Construction
The day was organized and moderated by Dr. Hugh F. Kelly, CRE, who serves as Special Advisor to the Real Estate Institute and chair of the curriculum committee for its new Masters of Science in Real Estate (MSRE) program. Anthony R. Davidson, PhD, MBA, Dean of the School of Professional and Continuing Studies (PCS), and Robert Morgenstern, Director of the Real Estate Institute, were on hand to welcome the visiting executives.
In its first year, the Real Estate Institute has successfully convened professionals from the New York Area, and internationally, for its initial industry events. The Real Estate Institute currently offers seven certificate programs in real estate finance and investment, construction and property management, credit analysis, and development. The university is presently matriculating students for its MSRE program, where classes will commence in January 2018.
ABOUT THE FORDHAM REAL ESTATE INSTITUTE
The Fordham Real Estate Institute currently offers a comprehensive array of professional certificates, and a Master of Science in Real Estate, at its campuses in Lincoln Center and Westchester, New York. Serving professionals and owners/investors of all stripes, the certificate program has seven specialized tracks: Real Estate Finance and Investment, Real Estate Financial Modeling, Commercial Real Estate Credit Analysis, Real Estate Development, Construction Project Management, Commercial Property Management and Residential Property Management. The MSRE curriculum presents the essential elements of real estate finance, investment, development and management. Both programs developed and taught by leading industry practitioners are centered on imparting real-world professional skill sets. Flexibility and convenience are program hallmarks: classes can be taken in-person, online, and at various paces. For more information, visit https://www.fordham.edu/realestate.