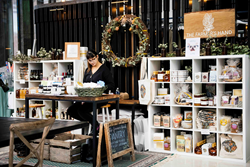 DETROIT, Mich. (PRWEB) December 18, 2017
The Farmer's Hand, located in Detroit's historic Corktown neighborhood, is getting into the holiday spirit with a sleigh-load of events, experiences and gifts that are perfect for the season.
The locally-owned café and market carries a wide array of high-quality Michigan-made products, including curated sets that aim to take the guesswork out of gifting. Featuring items hand-picked by owners Kiki Louya and Rohani Foulkes, the gift sets include: Breakfast Basket, a selection of cozy winter staples; Dinner Box, an all-local all-organic rustic meal for two; and Party Picks, featuring a variety of tasty items perfect for any celebration. The gift sets range in price from $40 to $90.
The Farmer's Hand is also offering a selection of Michigan-grown Christmas trees and locally-cut firewood. And, they are accepting orders for their holiday catering boxes, filled with dinner staples and farm-fresh produce for 4 to 8 people, as well as for a variety of Zingerman's Bakery breads.
Bringing more good cheer, The Farmer's Hand will be hosting a set of in-store tasting events, with a focus on hand-crafted, locally-sourced last-minute gift ideas. The first event, on December 21, will focus on Michigan wines that pair well with holiday dinners, and the second event, on December 28, will highlight sparkling wines that are perfect for toasting. Cheesemonger Jessica Mark of Greenpoint Cheese & Meat will be on-hand to share pairing and gifting recommendations.
The Farmer's Hand can also be visited as a pop-up as part of the Bedrock Winter in Detroit Holiday Markets, located within the lobby of 1001 Woodward, across from Campus Martius Park and at the corner of Michigan and Woodward avenues. The Farmer's Hand pop-up shop is serving light food and natural snacks, including grab-and-go pastries from Sister Pie, Warda Patisserie and Zingerman's Bakehouse. Shoppers can also enjoy hot beverages from Madcap Coffee, Draught juices and Living Zen Organic Mylkshakes.
Also at the pop-up location are a selection of Michigan-made products, including Sweet Heather Ann macarons, handmade homewares from Chelsea James, organic crackers and locally-produced jams, Michigan olive oil, and Zingerman's holiday candy bars. Shoppers can also pick up curated gifts sets, including: Blokes Box, a selection of items for men; Sweater Weather, an all-local all-organic 'smores box; and Great Lakes Sampler, featuring a variety of foods and snacks from across the state. The gift sets range in price from $25 to $85.
For the latest news, including "meet the maker" events and unique sampling and tasting opportunities, follow The Farmer's Hand on Facebook.
ABOUT THE FARMER'S HAND
The Farmer's Hand is an artisanal pantry, market & café located in Detroit's Corktown neighborhood, and specializes in all-local, Michigan-made food and beverage products. The independently-owned shop works with more than 100 food partners throughout the state of Michigan, including many local distributors. Approximately two-thirds of their products are grown or produced within 20 miles of Detroit. The Farmer's Hand only partners with small to mid-sized family farms and artisan producers and provides their guests with convenient, year-round access to a variety of locally-produced food. For more information, visit their website at http://www.thefarmershand.com.