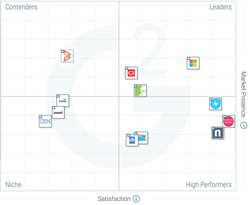 CHICAGO (PRWEB) December 12, 2017
G2 Crowd, the world's leading business software review platform, today released the Winter 2018 Enterprise IT Management Suites Grid® report to help businesses make the best Enterprise IT Management Suites technology buying decision. Microsoft Operations Management Suite, Oracle IT Service Management Suite, and ConnectWise Automate were named Leaders in the report, receiving a strong customer satisfaction score with a large market presence.
Freshservice, Goverlan Reach, NinjaRMM, Cloud Management Suite, and Pulseway were named High Performers in the report, earning strong customer satisfaction marks with smaller market presence scores. Goverlan Reach received the highest overall satisfaction score while BMC Remedy earned the highest overall market presence score.
The Grid® leverages customer satisfaction data reported by authenticated users along with vendor market presence determined from social and public data. Based on a combination of these scores, each software solution is categorized as a Leader, High Performer, Contender or Niche.
Key Findings:

Difficult user interface — Users struggled to adjust to interfaces that were either unintuitive or so dated that the interfaces became distracting and confusing to use. Users said that any tasks directly related to navigating the interface, such as ticketing, drop-down fields, or even simple access to features, were made much more difficult. Even when users didn't specifically call out an unintuitive or user-unfriendly interface, they did admit that they were looking forward to future updates that would reduce tediousness and add additional polish to current user flows.
Ease of Managing Remote Access — Painless remote access management was a recurring point amongst user reviews. And while it must be noted that for some users, they found remote login painful or more restrictive than desired, the majority of reviews did like how the software streamlined normal business processes. For example, many users said that the software made possible to see all of their systems across multiple locations "behind one pane of glass." That singular platform for monitoring and management eases the work that administrators do daily. Other positive things that users specifically called out were: how easy the software made the automation of maintaining and alerting clients' systems, the accurate monitoring of servers and workstations, and reliable endpoint protection and backup capabilities.
About the Enterprise IT Management Suites Grid® report:
The report is based on more than 381 reviews written by business professionals.
Of the 40 products listed in G2 Crowd's Enterprise IT Management Suites category, the ranked products each received ten or more reviews to qualify for inclusion on the Grid®.
About G2 Crowd, Inc.
G2 Crowd, the world's leading business solution review platform, leverages more than 285,000 user reviews to drive better purchasing decisions. Business professionals, buyers, investors, and analysts use the site to compare and select the best software and services based on peer reviews and synthesized social data. Every month, nearly one million people visit G2 Crowd's site to gain unique insights. Co-founded by the founder and former executives of SaaS leaders like BigMachines (acquired by Oracle) and SteelBrick (acquired by Salesforce) and backed by more than $45 million in capital, G2 Crowd aims to bring authenticity and transparency to the business marketplace. For more information, go to G2Crowd.com.